Joomla Page Builder is a great solution to build pages in Joomla, which makes website development easier. Joomla Page Builders can help you build your website faster and save valuable time and money.
Before building a page, you must build a website by custom coding, or hire developers and invest a lot of money and time. Now, in this modern age, you don't need to repeat the old way. Instead, you can use the page builder to build the website yourself. In this article, we come up with the list of the top 17 Best Joomla Page Builders to build your Joomla website.
However, when you browse in the market, there are many page builders, which often confuses us. When building a website, we must invest carefully. Some of us cannot invest our money and time twice, so choosing a good page builder is very important.
In this article, I will share the details of about 17 Best Joomla page builders. After reading this article, you will be able to choose the ideal page builder for your project. Before going for the details, let's take a look at What is Joomla Page Builder first.
What is Joomla Page Builder?
Joomla Page Builder is a Joomla module that can be installed on Joomla-based websites. It helps users use a friendly dashboard, drag-and-drop layout builders, pre-made content pages, and content blocks to make faster Web pages. Note: Website Builder & Page Builder is two different things. If you want to know the difference between Website Builder and Page Builder we have a detailed article on Page Builder vs Website Builder.
17 Best Joomla Page Builders 2023
TemplateToaster
SP Page Builder
JA Builder
YOOtheme Page Builder
Quix Page Builder
Blox Page Builder
Joomla Website Builder Gridbox
JD Builder
T4 Page Builder
Page Builder CK
RS Page Builder
Content Builder
Azura Joomla Page Builder
Coming Soon Page Builder
Geek Landing Page Builder
Kiolezo
NextGen Editor
1. TemplateToaster – Best Joomla Page Builder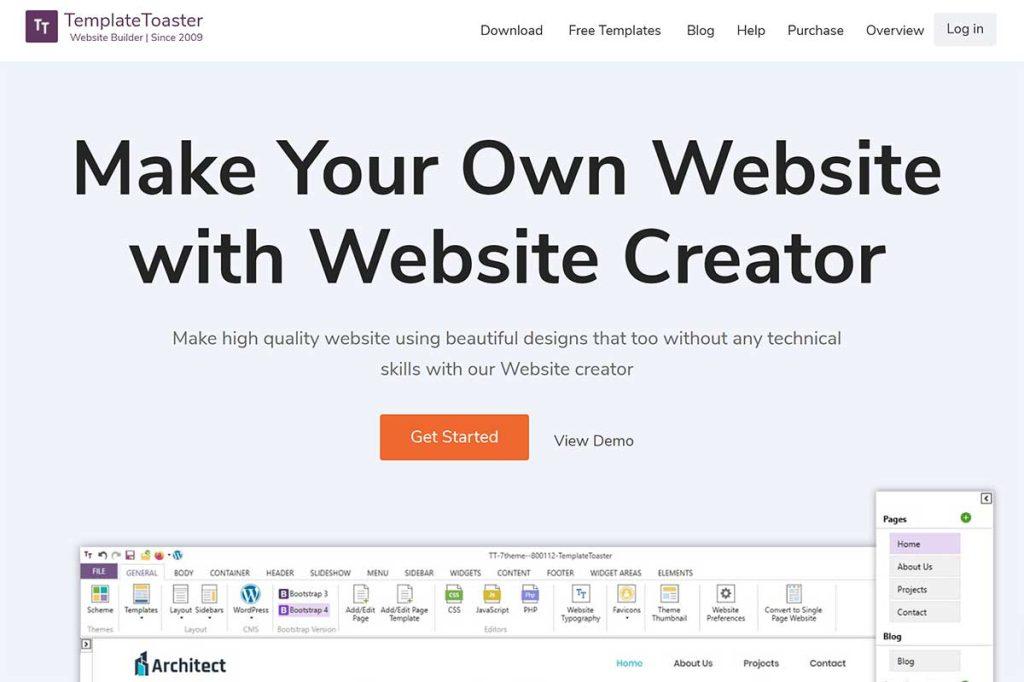 TemplateToaster is a Joomla Page Builder that allows users to create and design Joomla templates and websites with ease. It features a drag-and-drop interface, pre-designed templates, and customizable templates and layouts, making it a user-friendly option for beginners as well as professional web designers. With TemplateToaster, you can create websites for a variety of purposes, including personal, business, eCommerce, and more. It offers a wide array of customization options which makes it perfect to start building Joomla templates and Joomla Websites without any hassle and zero coding.
The templates created using TemplateToaster are mostly compatible with all of the Joomla extensions. The Joomla templates support the Bootstrap framework which ensures higher flexibility and responsiveness. Moreover, with support for the Bootstrap 5 framework, you can also make use of enhanced features and extended functionalities.
In order to assist you to create powerful and responsive designs and take advantage of a wide range of capabilities to help you get the results you want, TemplateToaster offers you the compatibility with most recent version of Joomla 4. Additionally, it provides a friendlier backend user interface, updated coding, improved SEO tools, quicker website loads, and much more.
Joomla 4.x Support
Joomla 4 is the latest version of the Content Management System, released in November 2021. All of the template designs by TemplateToaster support the Joomla 4 version and are made using the latest coding standards that are compatible with Joomla 4. Moreover, these templates are built using Joomla's new framework and are optimized for the latest PHP version. All of these Joomla templates are tested and are certified to be compatible with Joomla 4, to ensure a smooth experience and to avoid any potential compatibility issues.
Create Custom Module Positions
TemplateToaster come with the functionality to create custom module positions in templates. As a result, it allows users to easily add new positions for the modules in a Joomla template. Modules are small, reusable components that can be positioned in various locations on a Joomla website to display content, such as menus, articles or advertisements.
With the custom module positions feature you can add new positions for modules in your Joomla template, beyond the default positions that are already available. This can be useful for displaying modules for specific locations on your website, such as the header, footer, or sidebar.
Extension-Friendly
Joomla template designs with TemplateToaster are extension friendly, which means it allows users to create designs while providing the ability to extend its functionality through the use of extensions. Extensions are add-ons that can be used to enhance the features and capabilities of a website builder. They can add new functionalities, integrate with external services, or add customization to the design.
Using an extension-friendly Joomla website builder enables website owners to create a website that is tailored to their specific needs, without the need for extensive coding or web development skills.
Bootstrap 5 Support
Bootstrap is a popular front-end framework for building responsive and mobile-first websites. Bootstrap 5 is the latest version of this framework, and it introduces several new features and improvements over its previous version.
TemplateToaster, the best Joomla page builder, supports bootstrap 5, offering it as a built-in feature or add-on that can be easily installed and integrated into the web builder. This allows the users to build websites using the latest version of Bootstrap, taking advantage of its new features and improvements.
Features of TemplateToaster:
Intuitive Drag and Drop Interface
Wide Range of Pre-Designed Joomla Templates & Themes
Advanced CSS and HTML Customization Options
Supports Responsive Mobile Friendly Designs
Pre-Built Joomla Templates
Built-in SEO Optimization Tools
Integration with Popular eCommerce Platforms
Free Joomla Builder
Bootstrap Compatible
Joomla 4 Support
Easily Add Custom Module Positions
Custom Layout Control
Custom Header Design
Pros:
User-friendly interface
Wide range of customization options
Responsive designs
SEO optimization
Integration with eCommerce platforms
Drag and drop builder
SEO support
Free/Freemium Version
Good documentation and support
Cons:
It is not available for Mac operating systems.
2. SP Page Builder – Best Joomla Page Builder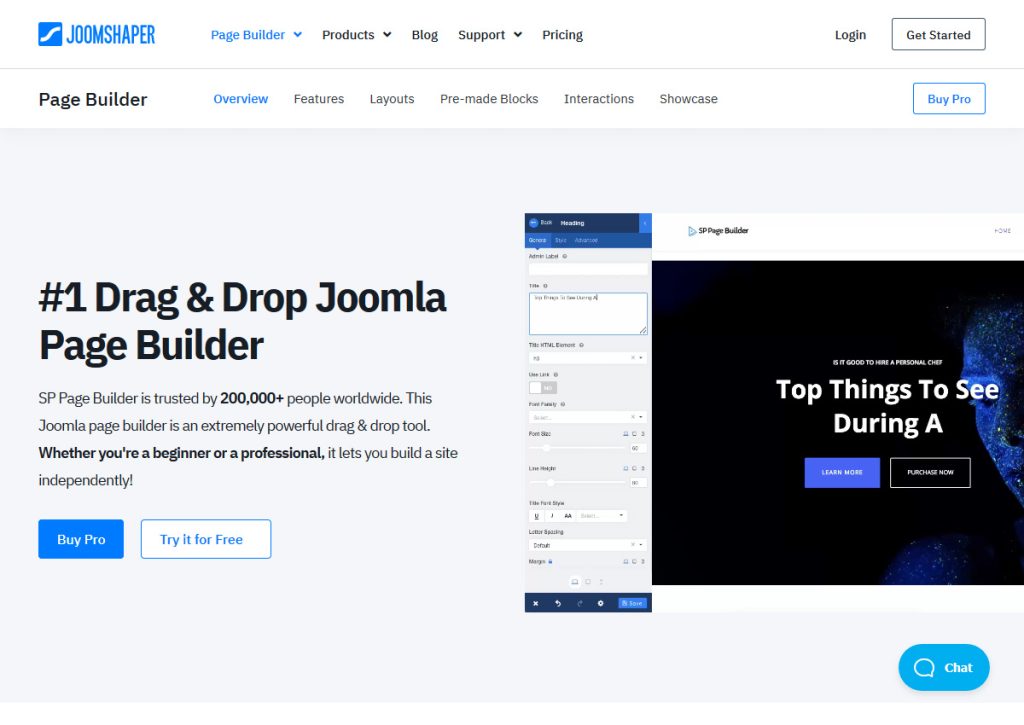 SP page builder is one of the very powerful and feature-rich Best Joomla page builders. With this extension, you can create a 100% mobile responsive website in the fastest time. Everything you do, every change you make can be visually seen and completed immediately. SP Page Builder comes with front-end and back-end page editors. Use the one you are used to or want.
Integration with Helix Framework
The SP Page builder includes a powerful Helix framework. Helix is ​​the fastest template framework, it is built with clean code and modern technology. Helix is fully search engine optimized; therefore, you can easily rank content above search results.
Everything you do with Helix is ​​friendly to users and developers; when using the framework, you won't find any kind of complexity.
Add-on Support
To make the desired website, you need to use add-ons. These add-ons help you create your preferred section without any coding. There are more than 50 additional components in this page builder. Each plugin has its own uniqueness and purpose.
The lite version of the SP page generator provides 14 free attachments. SP Page Builder provides free add-ons to design and build your website whereas others don't provide anything for free. Although the lite version has many limitations, you can at least build a basic website with the lite version.
If you want the ultimate experience of using SP Page Builder, you must use the Pro version. However, whether you will be satisfied is a question.
Drag and Drop Page Building
In this modern age, website building is not a difficult task, to make it easier, SP Page Builder will provide you with an award-winning drag-and-drop system. Every element remains on the sidebar, just drag and drop the elements needed to build the required part.
No matter what you build with SP page builder, it will always have a 100% response speed and you can use any device. By drag-and-drop page construction, every change you make will be executed in real-time. Therefore, you will not make any previews.
List of Features of SP Page Builder:
There are many other functions, but the important ones are:
Real-time front-end website construction 100% mobile responsive.
Many template designs.
Ready-made part
Major third-party integration
Fast website building
Multilingual support
Template compatibility
Refurbished system structure
More than 50 powerful plugins
Senior Media Manager
Pros & Cons of SP Page Builder:
Pros:
Mobile friendly
No need to be a coding expert.
Easy export and import options
Free pre-designed templates
Excellent support
Cons:
There is no free version of the front-end editor.
There is no SEO integration available.
Moderate options for complex layouts.
The response column size adjustment is not very good.
Instant columns cannot be added or even resized, which is completely restricted.
The nested column feature is very confusing.
Page-specific settings are not available.
The pre-designed page templates are free, but if you don't buy the professional version, you won't get a free reminder of "pre-designed page templates".
3. JA Builder – Best Joomla Page Builder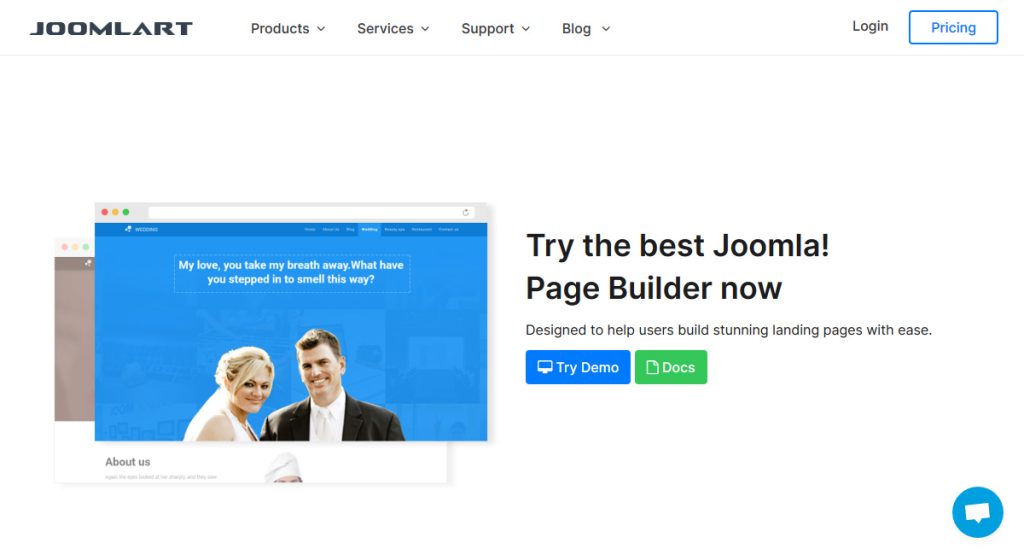 JA Builder is one of the second best Joomla Page Builders developed by Joomlart. An elegant library of pre-made pages and content blocks can instantly create a beautiful website. There are many options and not much customization is required.
Each element block comes with a preview, so you don't need to place and check one by one. Preview it, and if you like it, use it on your website. Wait a minute actually, more customization is possible. Each block can be customized for each element.
More than 120 content blocks can save you time
JA Builder can provide more than 18 types of content blocks. Here, you can find multiple options for each, and JA Joomla Content Generator provides a total of more than 130 blocks. This page block contains home pages about us, portfolios, contacts, etc. With just one click, a block can be inserted immediately.
Each content block is designed by a professional designer with user needs in mind. The most popular design has been completed. However, if you want to customize more content, edit each element the way you want. These blocks will be updated regularly.
More than 29 ready-made page libraries
JA Builder provides you with more than 29 advanced page libraries. These pages are fully completed and can be used anywhere. Each page is elegant from top to bottom and is designed with your needs in mind.
Select "Page" from the page's menu, and then insert the desired page. With just one click, it will be inserted and it will look like a preview. These page libraries will not always be the same, the Joomlart team will update this page and add new pages regularly.
Device friendliness
JA Joomla page builder contains more than 120 content blocks and more than 29-page libraries, which are fully responsive to the device. Every layout you build with this page builder is 100% device responsive. No matter which device you use to access your website, it will always be the same as other devices.
After building the part, you can check the device's response settings and view different device layouts, such as widescreen, desktop, tablet, and mobile phone. You can change or disable any part you want from there.
List of Functions JA Builder
More than 29 advanced page libraries
120+ advanced content blocks
Fully responsive device
Forum support
Inline editing
Video overlay support
Icon support
Template compatibility
Framework compatibility
Third-party extension compatibility
Image replacement
Pros & Cons of JA Builder
Pros:
Ready-made content blocks
The forum supports a free version
Cons:
The premium content block does not provide a free version.
The free version does not include the Premium Page library.
The user interface is not good.
4. YOO theme Page Builder – Best Joomla Page Builder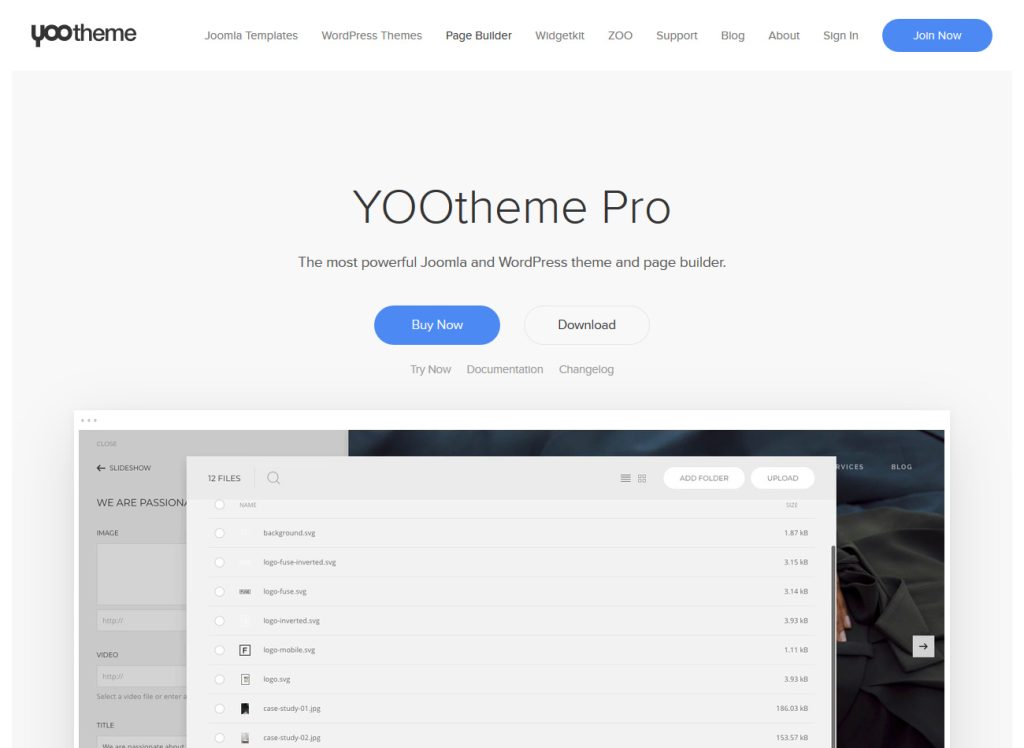 YOOtheme Page Builder is the 3rd Best Joomla Page Builder on our list. It is the ideal solution for all professional Joomla developers and beginners who want to start using amazing page layouts. After subscribing to YOOtheme, you can cancel your subscription at any time within 30 days and get a full refund. They do not ask any questions. However, you can also join a thriving community and keep in touch with more than 150,000 users.
YOOtheme Builder has a real-time editing function.
It fully supports third-party plug-ins and extensions.
It has a drag-and-drop function to easily organize everything.
All the content you create can be seen immediately in the real-time preview.
Completely free Joomla page builder.
It allows you to add and manage content using this page builder.
You can use more than 35 elements to build the content you need.
More than 250 pre-built page builder layouts are easy to design.
Pros
YOOtheme offers a 30-day money-back guarantee.
Every layout you create can be easily adapted to devices of all sizes.
It allows you to mix and match individual segments to form beautiful designs.
It will regularly release new packages.
You can use high-quality free images.
One-click update.
Cons
It does not have any free plans.
They have no monthly plans.
5. Quix Page Builder – Best Joomla Page Builder
Quix Page Builder is the 4th Best Joomla Page Builder on our list. It is built by their team of experts to enhance your page-building experience. This is not a new product; it is built based on a year of research and experience with Joomla real-time users. Time and money are important in everyone's life; therefore, the expert team builds a Quix Page Builder in order to save your precious time and money. Therefore, you can build a professional website by yourself instead of donating to others.
This Joomla page builder has compatibility with all templates and frameworks. The most popular frameworks such as t3, helix, gantry, warp, etc. all support Quix. No matter which template or framework you want to use, Quix always works perfectly.
This best Joomla page builder provides a free version and a professional version. You can use this Joomla page builder free version to perform almost all operations. You will see the differences and features of the free version if you compare Quix Joomla page builder with other professional builders.
Features of Quix Page Builder
Senior Media Manager
Front-end generator (visual generator)
Backend builder (classic builder)
SEO analyzer
Shape divider
Third-party extension integration
SVG support
Drag and drop page building
Ready-made layout part
Everything set
Customizable layout options
100% device response
Portability options
Movable mode
Non-destructive mode
Pros & Cons of Quix Page Builder
Pros:
Non-destructive mode
Drag and drop page builder
SVG and gradient support
Free front-end builder
Built-in icon
Rich documentation and support
Advanced media manager allows you to do more
Cons:
Insufficient video documentation
6. Blox Page Builder
Use the Blox page builder to fully control your website. Use this advanced page builder to build any simple to the complex layout you can imagine. With its drag-and-drop layout, everything on your website will be completed instantly.
Its quick layout saves you time, you only need to select the number of columns you need to add immediately. In operation, if you need to delete one, you can also do so.
Blox Joomla page builder understands your needs; therefore, it allows you to create any type of Joomla website, including business, agency, education, e-commerce, one page, magazine, news, events, etc. No matter which website you build, it will always remain responsive and always appear on every device in the same way.
Layout control
We have noticed the big things, but sometimes overlook the small things, which also play a vital role in website construction. With the blox page builder, you can also cover those small pages. Such a small option is the column spacing.
Column spacing allows you to change the gap immediately, allowing you to experiment with different types of column layouts. You can also add or delete any column layout on the fly. It's not that you can add or remove columns at the beginning, you can also add or remove columns as needed.
Each line added using the blox builder can have a container to center the content. Blox Builder allows you to add a background to the row; you can add any solid color or image background to the row. Sometimes, it is particularly necessary to fill in each row, and the amazing Blox page builder also provides this option.
Accessory library
Blox Joomla visual editor includes every necessary plugin for daily website construction. These add-ons will not hinder your work; it allows you to do more. By using these elements, you can construct the layout in many different ways.
When building a website, you may often need to use icons, so you need to seek third-party help. Blox page builder solves your problem; you don't need any third-party icons. This page builder provides hundreds of clear icons.
Unlimited possibilities
This Joomla page builder increases the possibilities in a new way. Every plugin that comes with blox is fully customizable, so with one plugin, you can create many different layouts. If you are not enough, you can write custom HTML, CSS, and JS code.
List of features of Blox Page Builder
Quick Layout
Column spacing
Full response
Drag and drop page building
Line padding width
Niche related templates
Icon manager
Framework compatibility
Custom font style
Plugin library
Custom code
Template compatibility
Pros & Cons of Blox Page Builder
Pros:
Quick layout function
Quick column spacing
50+ templates
Cons:
More than 700 add-ons are provided, but the free version only provides some add-ons.
The user interface is very complicated.
7. Joomla Website Builder Gridbox
A real-time website builder, allows users to configure the website in real-time, and all content on the website can be updated immediately. Joomla website builder Gridbox is a modern comprehensive solution for everyone, they are crazy to build elegant Joomla blogs or websites.
By dragging elements to build any part, you can immediately see the changes. If you want to put it down and don't have time, you can try using ready-made page blocks. Creating a website now only takes a few minutes.
With a grid box, you can take full control with just a few clicks. Change the layout of any text you want, and provide the user with the reading feeling he looks like on your website. Use gridbox to customize the font, size, height, width, margin, padding and other content to make your content layout richer.
Drag and drop website builder
All elements included with Gridbox are fully draggable. You can locate any element wherever you want. With this simple tool, you can change the way you build your website.
After placing the elements, click on settings and customize them to build your ideal website. Occasionally, if an element is misplaced, it can be replaced by dragging it, or it can be cloned by clicking the mouse will save your precious time.
Advanced management panels and themes
Joomla Gridbox provides you with all the functions. With its intuitive management panel, you can manage your website faster. Manage all visits from one page, and make any page private or public as needed. Then, you can also export the page.
If you need a Ready-Made Joomla Website in a hurry, you can try pre-built websites as you get into Delegate Studio. We provide you Joomla Websites with Hosting, Domain, Joomla Website Setup, SSL, On-Page SEO, 24/7 Support, and much more. You don't need to touch any line of code, and you don't need to drag any element from the Elements panel. Everything is built, you only need to make a few adjustments to start scrolling the site. With the help of these topics, you can build any type of website, but if you want to build your own inner world, you should start from scratch.
List of Features of Joomla Website Builder Gridbox
Visual front-end editing
Drag and drop layout
Fully mobile responsive
Pre-designed content blocks
Blog application
40+ elements
Access all Gridbox themes
Instant website building
Multilingual support
Advanced management panel
Pros & Cons of Joomla Website Builder Gridbox:
Pros:
Real-time website construction
Pre-built themes
Responsive Editing
Fully mobile responsive
Cons:
No backend builder
Free with no theme
The blogging platform is only available in the Pro version
One-page navigation is not available in the free version
8. JD Builder
JD Builder is one of the best Joomla page builders. This is the next-generation Joomla page builder with a clean layout. In addition, the page builder is supported by an extensive library with more than 600 fonts.
The page builder is also compatible with SEO and SEM, and you will be able to build web pages quickly. JD builder comes with a drag-and-drop feature.
In addition, it also has a powerful element library. The library contains more than 30 builder elements. And the number will increase as other versions increase. Using this page builder, you will also find different elements such as the content of the slider, Joomla modules, Joomla articles, contact forms, etc.
Main features of JD Builder
Drag and drop generator
JD Builder comes with a drag and drop generator. As a result, you can build web pages by simply dragging and adding elements as you want. Moreover, you have complete freedom to move any rows, columns, elements, sections, and all other content on the page.
Library of pre-designed templates and sections
JD Builder comes with a large number of pre-designed pages and libraries of different parts. You only need to insert a part or page to complete the operation. The library includes the hero part, about part, service part, function part, and so on. Just insert and change the content.
Powerful element library
JD Builder Joomla page builder currently has more than 15 builder elements, and these elements will grow with each release. You can find everything from content to sliders, Joomla modules, Joomla articles, Contact forms, and all other elements.
Built-in 3 Icon libraries
It integrates three icon libraries, which provide you with more than 2000 icons in the page builder.
Design with real-time preview
Don't worry about the real-time editing experience. With JD Builder, you can experience real-time editing on the backend. Make changes and reflect them on the web page with the help of real-time preview. You don't need to save, refresh and change windows. All of these can be done automatically with the help of a real-time preview function.
Full control over typography
Yes, in this Joomla page builder, you can fully control the layout of web pages, sections, rows, columns, and even elements. If you want to use a page-level layout, please set it at the page level. If you want to use any unique layout for a specific section, you can set it at the section level. You can fully control and manage it at any level.
Support custom CSS and SCSS
Need a custom style? Or need to write CSS code to make any part unique. Our Joomla page builder comes with custom CSS and SCSS support. You can write your own custom CSS or SCSS for any page, section, or element. It applies to all levels.
Developed through a mobile-first approach
Using this Joomla page builder, you can easily create a responsive website easily. You can use this Joomla page builder to set different settings for screens of different sizes.
Use JD Builder to create any simple to complex design
JD Builder gives you complete freedom to design any layout from simple to complex. It provides you with sections, rows, columns, and even internal row elements. With the help of inner row elements, you can create rows within columns and easily design any complex layout.
Most features are free
Most page builders provide key features that have a professional version, but JD Builder provides all these features for free. Here are some of them:
Row in column
Page import and export
Disable/enable sections, rows and columns
Custom CSS
Custom SCSS
Access a library of pre-designed sections and pages
Undo/redo your actions
Copy/paste settings
SEO and Open Graph settings and many other settings.
9. T4 Page Builder
T4 Page Builder by JoomlArt is all the functions needed to create a beautiful website, with 100% visual design, drag-and-drop function, an easy-to-use inline editor, and more than 10 beautiful website packages that can be used at any time, including 1 -One-click import function, more than 80 content block designs, more than 40 additional components, and elements.
100% visual design
Use T4 Builder's excellent visual editor to update content and customize styles has never been easier. Design, edit and customize every part of the website in real time.
Advanced inline editor: update content and format inline content
Custom style tools: set width, height, margin, padding, font, etc.
Image/video overlay background
More than 70 animation libraries
Precast section design libraries
The exquisite part design covers many topics and can create landing pages, websites and campaigns faster.
Theme settings: quickly change the style of the content block
User block: create your own content block library and reuse it on different pages
Shared block: Set a block as a shared block to use the same block in many pages
Fully responsive and mobile-friendly design
T4 Page Builder will be fully responsive and friendly to mobile devices and uses Bootstrap 4 responsive grid system.
Responsive configuration: You can configure to display, show or hide any elements and parts on different responsive layouts.
Scalable and developer-friendly
Many features to customize and update pages (parts) at the developer level:
-Custom column and page HTML
-Use the built-in CSS editor to customize page and section styles.
-Load custom/external JS/CSS libraries
Support Google fonts, permission settings and many other tools:
Supports many features and built-in options to help you build and update the content and style of your website easier than ever.
Google fonts: use the advanced font manager to add any Google fonts, and then use it to configure the fonts.
Page revision: One-click check and restore to previous updates.
Font icon: Material Icon font and Awesome Icon font are supported by default. Use the icon element to add font icons to any position.
10. Page Builder CK
With Page Builder CK you can easily create content with drag and drop and many predefined elements. You can use accordion, labels, and icons to create custom pages, and set the style at will through the style interface.
Element library
Select any element with one click and add it to your content. Then you can edit and change any layout or image.
Module page generator CK can put your content everywhere
A module named Page Builder CK is also automatically installed in the software package. You can use this module to place content anywhere on the page, not just in the main content area. You can create as many modules as you need, and create content directly in the module admin as in the component by dragging and dropping.
Direct version of your article
You can switch to the page builder editor by clicking the button in the Joomla dashboard. It will replace your editor well, you can create content directly in the article.
Front-end version
You can edit the page on the front end of the website. No need to spend time between multiple windows (administrator and front end), just log in to the front end and edit articles and pages directly here.
You will use your local Joomla to access the article version! ACL.
Inline text
Do you need to update the text? No need to open any pop-up window, just click it and write! You will spend a lot of time and effort creating content.
Full editor available
If you don't want to use the embedded version and get the full editor, you can open the text version in a full-width pop-up window and use the full capabilities of the editor (you can also use Tinymce's editor buttons).
Advanced layout and columns
You can create advanced page layouts and provide custom values ​​for columns in the form of %. Create any number of columns and easily set the width.
Responsive settings
Set exactly what you want to do and how you want the elements to react based on the resolution.
You can use component options to set resolution values ​​and adapt them to your needs.
On each row, column and item, you can choose whether to show/hide it for any resolution, and whether to align or stack elements.
Media Manager
Using the integrated fast media manager, you can easily browse folders and select images in them. You can also upload pictures by drag and drop, and immediately create a folder where you need it.
Extensible plugin
There are no restrictions on creating content using Page Builder CK. You can create your own element plugin and then put the content type in the list. Then, you can create the content you need by developing your own plugin, and then drag and drop on the page to add elements, set the options to be used, and define what you want to render on the front end.
The following is a list of plugins included:
– accordion
– animated number
– audio player
– blog
– button
– code (HTML, PHP…)
– contact form
– Google map
– open street map
– heading
– icon
– icontext
– image
– message
– module
– separator
– slider
– social_icons
– table
– tabs
– testimonials
– text
– vertical tabs
– video
11. RS Page Builder
RS Page Builder aims to build better content on Joomla pages. The colorful drag-and-drop interface allows users to seamlessly use the elements on the responsive layout.
Features of RS Page Builder:
Customizable layout and elements to create stunning pages
Support for Bootstrap 2, 3, 4 and 5
Responsive layout provides better visibility on all devices
Drag and drop user interface – no coding skills required
It is recommended to use on the following versions
Joomla 3 and 4 Compatible
PHP 7 Compatible
MySQL 5 and above
12. Content Builder
Although ContentBuilder is an easy-to-use, fast and powerful content-building toolkit, it can fill the gap between the crack and regular Joomla!
The main task of Content Builder is to construct Joomla while preserving the content layout! But there are more things you can do, including:
form
Content management
product list
table of Contents
Classified Ads
Contact form
Article submission
Basic community
Paid content
File directory (upload/download)
File sales
Picture Library
Extended Joomla! Registration, including verification code and paid registration
List/detail view (record display)
Website Builder
…Or perform regular CRUD (create, read, update, delete) operations on the data.
Support CSV import!
By default, Content Builder provides a list/detail view, which can be used as a management panel. If needed, it will also create regular content items, which you can use on your website as you would any other content-no core replacement required.
Content Builder provides a well-defined plug-in infrastructure to enhance its functionality:
Content (extension level, image resizing, download, or any other content plugins available)
Table element
Form verification
Verification (considering payment and coupons)
Subject (yes, even subjects are pluggable)
13. Azura Joomla Page Builder
Azura Joomla Page Builder is an advanced backend builder with drag-and-drop UI to build a website in minutes. Every part you build is just drag and drop and modify. Unless you want to do custom coding, no other coding knowledge is required.
Azura page builder can guarantee your satisfaction, if you are not satisfied, you can request a full refund within 7 days after registration. This page builder offers four different pricing plans-free, personal, enterprise, and developer.
The free version only provides limited support, 20 built-in elements but unlimited basic knowledge of website licensing. The personal plan comes with a license for $25 per year and a 10% discount when renewing. The other two pricing plans will charge you annual fees of $40 and $100, respectively.
Templates and Content Elements
Azura page builder contains more than 40 advanced elements. Literally, you can build any type of section with these elements in a matter of minutes, and you don't even need to touch a line of code. This page builder has template compatibility; therefore, you can use this Joomla builder with any template.
cththemes provides you with the Azura page builder, and they accept requests for new elements. If you need any element, just post a request to its developer.
Fully customized back-end page construction
All content in Azura page builder is based on drag and drop and backend page construction. To build a section, select a specific element, then place it on that section and change its settings as needed.
Each element of Azura has multiple customization options-general, style, layout and animation. You will fill your heart with beauty.
Generator layout of Joomla content and custom modules
By default, Azura provides support for Joomla content components. You don't need any custom plugins to create videos, galleries, sliders and post articles. With Azura Page Builder, you can control everything. Together with Joomla content component support, it also provides you with Joomla custom module support.
List of Features of Azura Joomla Page Builder
ACL and open graph support
Mobile friendly and responsive design
40+ pre-built style elements
Element requirements
Builder layout for custom modules
K2 and contact component support
Multilingual support
CSS3 animation support
Picture library with infinite scroll loading
Simple customization options
Awesome Lineicon icon font
The meta attribute of the image.
Pros & Cons
Pros:
Search Engine Optimization
CSS3 animation support
Image meta attributes
40+ image libraries
Fully responsive device
Cons:
No front-end builder
Previewing changes will take your precious time.
Only the basic elements are free.
14. Coming Soon Page Builder Coming Soon Joomla Page Builder is a responsive full-screen page template. It has some features and styles that make this plugin unique.
Features of Coming Soon Page Builder
Response template
High-resolution retina display ready
1 color theme
Countdown timer
Menu page content/menu
+24 social network icons
Compatible with all the latest popular browsers and devices
Google Chrome
Firefox browser
Safari
Opera
Internet Explorer (IE7+)
Desktop
Notebook
iPhone
Tablet
ipad
Android and other most popular mobile devices
15. Geek Landing Page Builder
The Geek Landing Page Builder plugin allows you to easily create a landing page on your website with some simple steps. This is useful if you want to quickly build a landing page to promote your new product or new campaign on your website without redirecting to another page. Since it is a standard Joomla plugin, the plugin can publish the landing page to a specific Joomla page, which is much easier than using an external microsite as the landing page.
Main Feature:
Simple and powerful backend
More flexible, powerful, and friendly than anything there! A faster and easier visual editor for building creative landing pages. This plugin provides you with a very easy-to-use drag-and-drop login page builder, which is enough even for a complete novice. All changes are in progress, and the content is displayed on the monitor exactly the same way it was published.
Other Functions
Extremely powerful Visual Layer Editor
Easily manage scripts
Supports many useful elements: titles, custom HTML, images, buttons, YouTube videos, Vimeo videos, and more than 500 built-in icons, which can be used for various purposes.
Support various background types, including video background, image background, solid color background and gradient background
Support for adding a mask on the background
Set background opacity
Support to create login page from the built-in configuration file (sample package)
Full response
Full-screen scroll page
Support 2 scroll directions
Support keyboard scrolling
Control display frequency
Set the transition effect between pages
Built in more than 30 kinds of animation
The flexible page allocation system
Complete settings for navigation control
Allows to load modules and module positions on the page. (new)
Automatically close the login page after the specified number of seconds
16. Kiolezo
Build your website template directly from Joomla! Just drag the rows, columns, module positions, images, and many other elements.
Kiolezo is a component for building Joomla templates through drag and drop.
Kiolezo can directly use the created template, maintain drag-and-drop editing capabilities by explicitly creating and installing the template along with the component, or export it to a zip archive format and install it on any other Joomla!.
17. N1ED
The N1ED Joomla extension upgrades the built-in standalone TinyMCE to TinyMCE, and comes with a set of additional components, which bring many new features.
You will be able to edit the response content, preview it on your mobile device, build the Bootstrap structure using predefined or your own blocks (if supported by the theme), add different widgets and define your own widgets. The Flmngr file manager and ImgPen image editor are also available in the default N1ED installation.
This Joomla extension retain the existing features of the editor like selecting Joomla articles to link.
N1ED has a visual configuration: you can use the built-in widgets in the Joomla control panel to enable and disable all N1ED ecosystem plugins, and intuitively change its preferences.
Which is the Best Joomla Page Builder?
Now, page builders can cause confusion. I believe you will agree with me that the Best Joomla page builder is the fastest way to create a website. Now the question may arise in your mind "Which page builder should you choose for your Joomla website?"
All Joomla Page Builders have been tested with various frameworks and templates, and so far, they all work normally. Likewise, it is clear that Quix and SP page builders are good choices. If you can spend a lot of money on page builders, then you can choose the top two, which are the best on the market and have strong support from developers.
However, I still recommend that you check all the options at once and then decide which best Joomla page builder based on your specifications. Do you have any questions? Add a line in the comment section below, and don't forget to share with me the part you find useful.
Frequently Asked Questions of Best Joomla Page Builder (FAQs)
How is the above list of Best Joomla Page builders ranked?
All the above Best Joomla Page Builders sort according to their user reviews and the popularity of the builders. This list is made after being well-researched by our team.
Is Joomla page builder drag and drop?
Most of the Best Joomla Page builder comes with drag and drop layout. It includes both for front-end and back-end. Some Joomla Website Builders are SP Page builder, Quix Joomla Page Builder, JSN Page Builder, Page Builder CK, etc.
What are free Best Joomla page builders?
In the above list, almost every Joomla Page Builder comes with free plan as well. But some of the free page builders are Joomla Website Builder Gridbox, T4 Page Builder, and Page Builder CK.
How to use page builders in Joomla?
Joomla Page Builder is a module that allows you to develop your website pages by just drag and drop the elements. It was not easy to develop a website in Joomla before page builders. You must either use readymade modules, components and extensions to meet your requirements, or hire Joomla developers to develop your website.
But the Joomla page builder completely changed the way. You only need to purchase a page builder extension, you can easily add any element through the drag and drop interface.
Is SP Page Builder free?
SP page builder is a paid Joomla module for building Joomla websites. But it also comes with a lite version with extremely few features.
Is Joomla good for SEO?
If I compare Joomla 3 vs Joomla 4 I have seen a difference with both versions from an SEO point of view. In Joomla 3, the user interface of the backend is quite difficult. Then I realize that WordPress is a far better choice for SEO.
But Joomla 4 filled the SEO problems very well. The premium 4SEO extension is going to make it much more appealing and the user interface is easy for new users.
I hope you will get all the Answers to your question about the Best Joomla Page Builder. If you have any queries please write them down in our comment section.