If your website menu is not responsive and professional, then visitors will not browse your website on mobile devices. Add one of the WordPress Menu Plugins mentioned below and enhance the look of your website and allow users easy navigation by customizing your site's menus. This is an important component of your website design because visitors use this menu to navigate your website.
The menu is one of the most important segments of any website. This is the starting point for your users, and at the same time, it is very essential for search engines. Although WordPress comes with its own section and settings so that you can create a menu, there are several WordPress menu plugins that can help you enhance the menu. The primary navigation menu of a website is usually displayed in the website header or at the top of the main sidebar.
A short note on the website menu
A website is made up of a collection of menu links. These links act as road signs that make it possible to navigate and interact with a website. They guide you from one page to another, and they lead you to the information contained within the website.
It arranges an organized and easy-to-use menu and displays content in a way that is easy to follow. This leaves a positive impact on your website visitors. This makes them get more information about your business and spend more time buying services provided by you.
And if you've ever felt that the navigation areas of your website can be enhanced, this collection of the best WordPress menu plugins (Free and paid) can help.
Ubermenu
Max Mega Menu
Superfly
Hero Menu
WP Floating Menu Pro ($17)
WP Mega Menu
WP Mega Menu Pro
WP Mobile Menu
QuadMenu
NOO menu
1. Ubermenu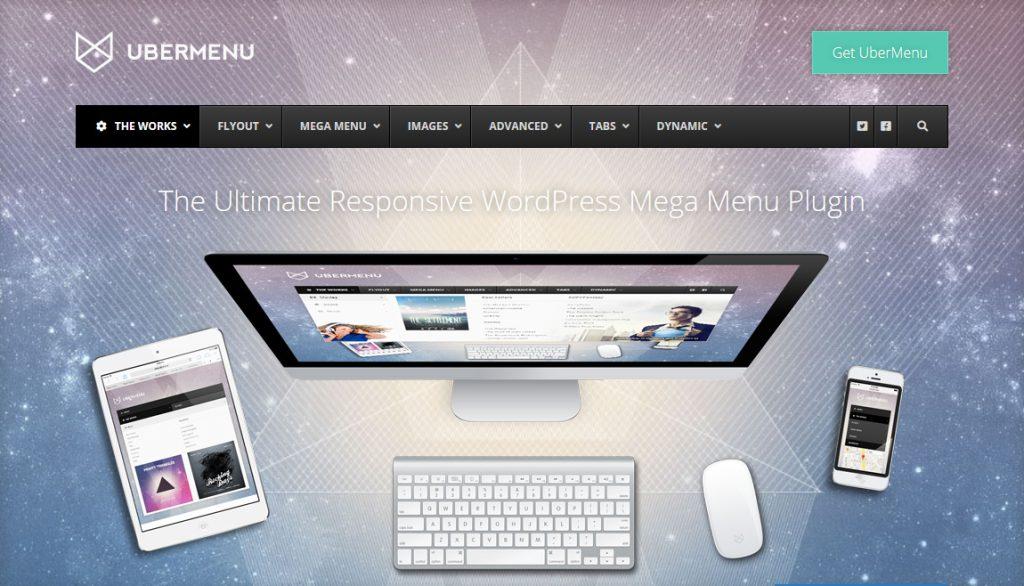 Mega menus are a sensation in the WordPress menu plugin market, and UberMenu is a hotcake. With over 75k sales, a trending WordPress mega menu plugin that rises many above your typical menu plugin.
It is the number one mega-menu plugin in Codecanyon and features flexible layouts, responsive design, advanced content (so you can add maps and more to your menu), UI, and dynamic item generation among others. It ships with a powerful customizer that supports over 50 style combos, tabbed sub-menus, multiple menus, and great transitions, to mention just a few. All these (and more) features are squeezed into a beautiful plugin that is easy to install, learn and use.
The outstanding feature of UberMenu is that it allows you to add advanced content like Google Maps to the menu. You can get the blog post grid to display on the menu. Not only this; You can also configure the grid to draw specific content as well as featured images. If you prefer, you can align menus vertically or create multiple UberMenus with independent configurations.
Price
Get the Ubermenu WordPress Menu Plugin in $26.
2. Max Mega Menu
Max Mega Menu is one of the few WordPress menu plugins that offer fully responsive implementations of menus. When you establish a maximum mega menu, it automatically changes your existing menu to a mega menu. With a few clicks, you can convert your menu to a fully touch-friendly, easily accessible menu. The drag-and-drop builder helps create menus from your dashboard, and you can see menus taking shape in real-time using the preview feature.
It is possible to style mega menus using your theme editor and change the menu behavior using native WordPress settings. The Max Mega Menu comes with 100 other customization options, allowing you to choose colors, fonts, sizes, and more. In addition, it provides valid CSS3 and clean code which makes for a terrific experience.
It is also possible to create complex menus with this plugin, and at the same time, add interactive elements, such as maps. Since it can integrate with other plugins, you can include functions such as a calendar and contact form.
3. Superfly Responsive Menu
Superfly Responsive Menu is an awesome WordPress Menu Plugin and is preferably for those who have a good hand in coding languages ​​like HTML and CSS. This premium WordPress Menu Plugin comes with support for both touch screen and desktop.
With Superfly, you can choose from a variety of cool animations that you can apply to your menu. You can customize every single element of your menu and also write custom CSS and HTML code. You can use many different options such as glossy icon bars, background images for menus, rich text editors and short-codes for custom content, and more.
Superfly is a popular responsive WordPress menu plugin that generates trendy pushing/sliding/static navigation for your site. Superfly makes navigation on both desktop and mobile much easier and more unobtrusive. The concept of an off-canvas vertical menu that used to prove itself on mobile now shines on the desktop too! The mouseover interface removes the need for additional clicks and reveals a menu with an easy move and beautiful presentation.
Price
You can purchase this WordPress Menu Plugin in $20.
4. Hero Menu
Hero Mega Menu is a highly customizable WordPress Menu Plugin that you can use to create modern menu sections on your site. Both specific hero menus and a simple drop-down menu are possible with this WordPress Menu plugin. There are 650 Google fonts, 60 color presets, and a custom background, making it easy for you to customize. Menu building is easy in Hero Menu WordPress Plugin with a drag-and-drop editor feature.
If you are managing an e-commerce store, you will be happy. This WordPress Menu plugin is full integration with WooCommerce. It also allows you to display product thumbnail images and prices on the menu. In addition, all regular content such as text, forms, and maps can also find their place on the menu. Likewise, it has 3 different search forms – Slide Down, Lightbox, and Classic.
The sticky menu is always visible to readers, and the menu will automatically scale to smaller devices. You can hide menu items based on user roles only for certain content to appear for the user to log in. A recent update includes an eyebrow menu, a feature that adds little text, and a login link in a thin bar at the very top. It supports all popular browsers like Google Chrome, Firefox, Internet Explorer, Edge, and Safari.
Price
You can purchase this WordPress Menu Plugin in $20.
5. WP Floating Menu Pro
WP Floating Menu is a powerful modern WordPress Menu Plugin that provides you with a super flexible menu option. If you want to create a one-page menu for your single-page site, here is the WordPress menu plugin you need. This plugin provides you with seven different menu positions with 13 different pre-made templates to choose from.
In addition, it comes with easy and powerful customization possibilities, you have custom layout design options, and various possibilities to make your menu look great. With this plugin, you can create a great-looking sticky navigation menu that will make it super easy for your users to access your content and make your site look modern and beautiful.
You can create any menu for your website and configure the menu for each page independently. Three different menu icon sets are available – Dash Icons, Font Awesome Icons, and Gener Icons. You can also upload your own custom icons if you did not find the icon which you are looking for in providing icon sets.
Pricing
You can purchase this WordPress Menu Plugin in $24.
6. WP Mega Menu
The WP Mega Menu by Themeum is a highly responsive and powerful WordPress Menu plugin that lets you create great navigation for your WordPress site. The menu offers a ton of style options and layouts. You can create amazing backgrounds, categories, subcategories, images, and backgrounds with this drag-and-drop menu builder. The WordPress Menu plugin is WooCommerce ready so you can add your products to the menu. You can make your page super popular by using the plugin to manage social links, call-to-action buttons, and search bars.
This is a highly customizable WordPress Menu plugin to make your website super organized. There are wide icons including 650+ FontAwesome icons, 120+ generics, 160+ dash icons, 400+ IcoMoon, and 40+ line icons. One of the best things about this WordPress Menu plugin is that it is lightfast so that you can build a functional menu in seconds.
7. WP Mega Menu Pro
WP Mega Menu Pro is a premium WordPress Menu plugin that lets you create multiple mega menus for your WordPress website. It comes with 14 beautifully designed templates to match your mega menu with the overall design of your website. In addition, you can build your custom mega menus with the help of a visual mega menu builder plugin and display them as flyout and megamenu types with orientation as vertical and horizontal types.
It is a highly configurable WP Mega Menu plugin that contains various customizable Mega Menu Items. The plugin comes with 5 inbuilt menu icons containing 650+ FontAwesome icons, 120+ generics, 160+ dash icons, 400+ IcoMoon, and 40+ line icons. In addition, you can style your Mega Menu with unlimited custom menu items that come with the plugin.
Pricing
You can purchase this WordPress Menu Plugin in $18.
8. WP Mobile Menu
WP Mobile Menu is an easy-to-use responsive and modern mobile WordPress Menu Plugin. It engages in giving your mobile visitors easy access to your site's content using any device. With this plugin, you can create a concise menu for your mobile visitors with 3 menu level dropdowns. It is possible to have two responsive mobile menus per page, including a fixed header where you can place your logo/brand or just a simple hamburger menu.
Also, you can add an overlay mask to your main site to make the mobile menu really different. You can also choose a custom Google font, add your logo, and a background menu image. No coding knowledge is required. By using the power of the Menu plugin, you will undoubtedly enhance the mobile website experience.
The collection of features that are brought to the table in the WP mobile menu is huge for a tool that costs you nothing. Speaking of which, the plugin includes a multi-level drop-down feature, nude headers, overlay mask, background image, and logo. Of course, you can also modify the style of the menu to accurately fit your branding rules.
9. QuadMenu
QuadMenu is one of the latest free WordPress menu plugins. This plugin allows you to create mega menus, tab menus, and carousel menus in a simple and basic way. This plugin is used to upgrade menus of existing WordPress websites, as well as to add advanced menu functionality to a custom theme or new web design project. Thanks to the drag-and-drop user interface, anyone can use this plugin to create a custom drop-down menu for their WordPress website. No coding skills are required, as the menu builder has a fully visual interface that is accessible through your WordPress dashboard.
You can also create an unlimited number of menus for your website with QuadMenu, before assigning them to different areas of your site as well as different pages. This feature ensures that your menus and their content are very relevant to the piece of content being viewed, giving you the ability to display links that make your visitors more likely to click. You can also use the menu designer to add interactive elements and other eye-catching features to your menu to attract the attention of your audience.
10. NOO menu
NOO Menu is a revolutionary WordPress mega menu plugin that lets you customize almost every menu element of the default WP menu. It comes with a super interactive and intuitive admin interface for easy configuration of the navigation menus present on your website. All the required functions and settings options are available in the admin panel, using which you can create a mega menu. That's why save the menu and go to the front end to see the changes.
Changes can also be previewed from the backend. This helps you a lot in saving your valuable time. This plugin is equipped with an ultra-customizable setting that enables you to easily change your menu elements. In addition, both horizontal and vertical menus can easily be added to your website.
It is a highly configurable WordPress plugin that comes with a variety of customizable fields. You can customize all of these to your liking and display a stunning horizontal or vertical mega menu on your website. In addition, the plugin also has real-time backend preview options to bring a preview of the menu created before adding it to your WordPress website.
Pricing
You can purchase this WordPress Menu Plugin in $16.
Winding Up – Best WordPress Menu Plugins
The responsive WordPress menu plugin is an important and great option if you want to display loads of notifications to visitors without the need to scroll down. And hopefully one of the above Responsive Menu WordPress plugins fits your site's bill. Whether you are looking for an advanced mega menu or a simple floating menu for a landing page, we have included some of the best options. If you give any of them we love to know. Or if you have a plugin to add, just leave us a note in the comments section below.
If you want to build a WordPress website, without spending money and time, to find a good Website that fits your needs. Then a ReadyMade website is the best option for you. The standard benefits of a Ready Made Website, such as Domain, Hosting, and Website Builder, as well as seamless SSL certifications for additional security and much more. Start your websites in different CMSs like WordPress, Joomla, WooCommerce, PrestaShop, OpenCart, Magento, and Shopify. I suggest you check it once so that you can recommend it to your loved ones also.
Ready Made Websites You May Like Andrew Scott
Andrew Scott is a creative freelance wirter from Canada. He has been writing about WordPress and written multi fold blogs and articles that present strategic approach, and marketing tips for online businesses.