Using a high-quality WordPress Poll Plugin for your WordPress site can help visitors be more interactive when they are on the site. No matter what type of website you run, you should always try to build a community around your website. As a result, you will have regular visitors who will keep coming back to your website whenever you post new content. In this article, we want to introduce the best free WordPress Poll Plugins that you can use in 2022.
The WordPress Poll Plugin is an effective method that can be used to collect users' opinions on the content, products and even services you provide on your website. It will help you better understand the type of content visitors are looking for, which can increase your website and audience.
In this article, we want to introduce the best WordPress Poll Plugin that you can use in 2022 to add this amazing and necessary feature to your WordPress website. Remember, in this list, we will introduce free and premium plugins. If you can't decide whether you should buy a premium plugin or free.
What to find while Choosing the Best WordPress Poll Plugin?
Online polls provide a fun and easy way to keep your audience engaged. Therefore, popular sites like BuzzFeed use them regularly to create viral content and increase the time users spend on their sites.
There are many WordPress poll plugins that can help you add online voting to your website. We will look for the following things in the WordPress Voting plugin:
It should be easy to use so that you can quickly create polls
The polls should look good and can be easily added anywhere, including posts, pages or sidebar widgets
Your poll plugin should run fast and should not affect website speed or user experience
Should be able to display voting results with graphs and charts
That being said, let's take a look at the best WordPress poll plugins and how they compete with each other.
12 Best WordPress Poll Plugins
Check out this list of WordPress Poll Plugins, which will help you create an attractive website and attract a lot of traffic.
WP Polls
WPForms
YOP Poll
OpinionStage Poll, Survey, Quiz
Polldady Polls and Ratings
TS Poll
vote5
Like Button Voting & Rating
Yasr- Yet Another Stars Rating
WP ULike
Democracy Poll
bbPress Voting
1. WP-Polls
WP-Polls is a simple, free, WordPress poll plugin for your WordPress website. It allows you to add online polls to WordPress pages, posts, and widget areas.
Users can choose multiple options in the poll. After the user selects an option, WP-Polls automatically displays the result. If you want to customize the appearance of the polls and know some coding, you can change the theme and add custom CSS styles to the polls.
2. WPForms
WPForms is one of the best WordPress contact forms & WordPress Poll plugins in the world. It provides advanced form templates for creating contact forms, online registration forms, surveys, and polls in WordPress. WPForms has advanced add-ons for polls. Their online polls are highly customizable and flexible, which means you can easily create polls of your choice.
WPForms has an excellent form builder that allows you to quickly create online polls using drag and drop. You can also add images as user voting options.
You can display online polls in WordPress pages, posts, sidebars, and other areas available for widgets. Their polls will not affect the speed and performance of your website.
It allows you to beautifully display voting results in graphs and charts. WPForms gives you access to embed voting results anywhere on your WordPress website. You can also export voting results and use them in PowerPoint presentations, Excel tables, etc.
Overview Video of WPForms
3. YOP Polls
YOP Polls is a free WordPress Poll plugin that can be used to easily create online polls. It is very flexible and can be easily set up in WordPress.
It allows you to add multiple choice polls, schedule polls, display online polls on different pages, display results as a percentage, reset polls at any time, and add restrictions to show polls only to registered users. You can also block spammers using IP and username.
They provide various options for displaying voting results. If you want to show users the results of previous polls, YOP polling is your ideal choice.
4. OpinionStage Poll, Survey, Quiz
OpinionStage Poll is an interactive WordPress poll plugin. You can download it for free and install it on your WordPress site. You can easily create online polls, surveys, quizzes, forms, etc. using its built-in templates.
It has social buttons next to the polls and you can share them on your social media platforms. You can add polls to your WordPress pages, posts, sidebars, footers and other areas available for widgets.
If you want to create a visually interactive poll in WordPress, then OpinionStage Poll is your ideal choice. They offer a variety of colors and design options to beautify the appearance of your online polls.
5. Polldaddy Polls and Ratings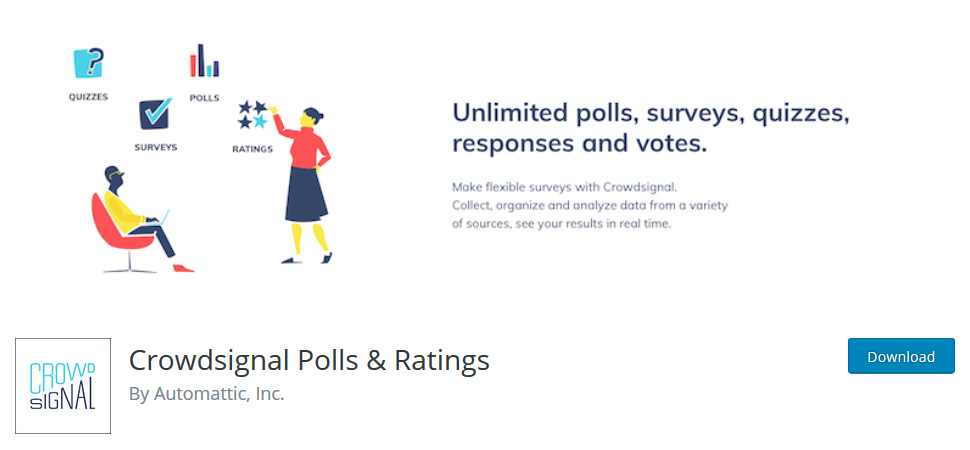 Polldaddy polls and ratings are also one of popular WordPress poll plugins. It allows you to create and manage polls from the WordPress dashboard.
You can create multiple choice polls, set deadlines for polls, show/hide poll results on the website, customize poll styles, etc. Polldaddy allows you to embed polls on other WordPress sites.
It uses basic IP filtering to prevent multiple responses from the same user. This is a free plugin. However, you will need a WordPress.com account to generate an API key.
6. TS Poll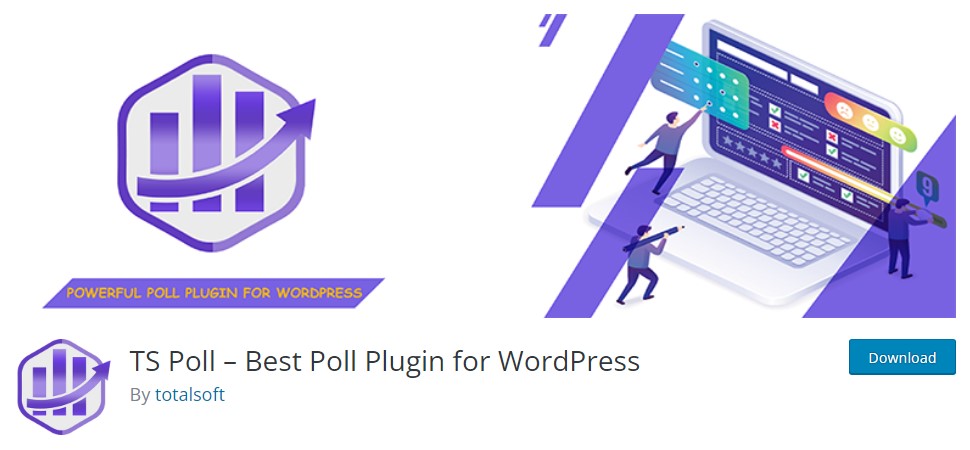 TS Poll formerly known as Responsive Poll is an online WordPress poll plugin that can be used to add simple and beautiful voting in WordPress. It allows you to create multiple polls and display them on the same page.
You can also add multiple choice polls, image selections with text, beautifully display results, add poll start/end dates, and custom poll designs.
They provide free and paid versions. The free responsive voting plugin has limited functionality, and you need to upgrade to the premium plan to unlock all options.
7. Vote5
Voting 5 is another WordPress Poll plugin for adding voting features to WordPress sites. It comes with detailed setting options to customize your voting system.
It provides a very easy-to-use voting option for your users. As the site administrator, you will have complete control of the entire voting system.
The plugin provides detailed logs of each vote regarding the IP address and other details so that the administrator can control the vote.
8. Like Button Voting & Rating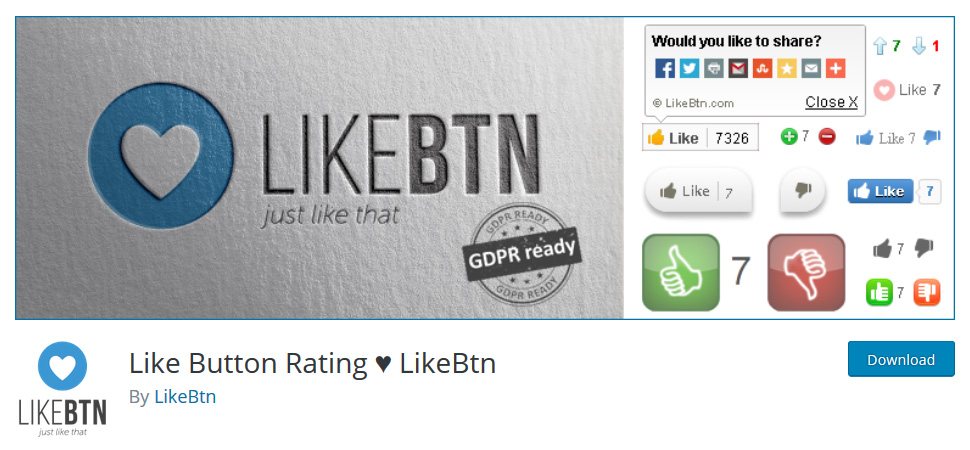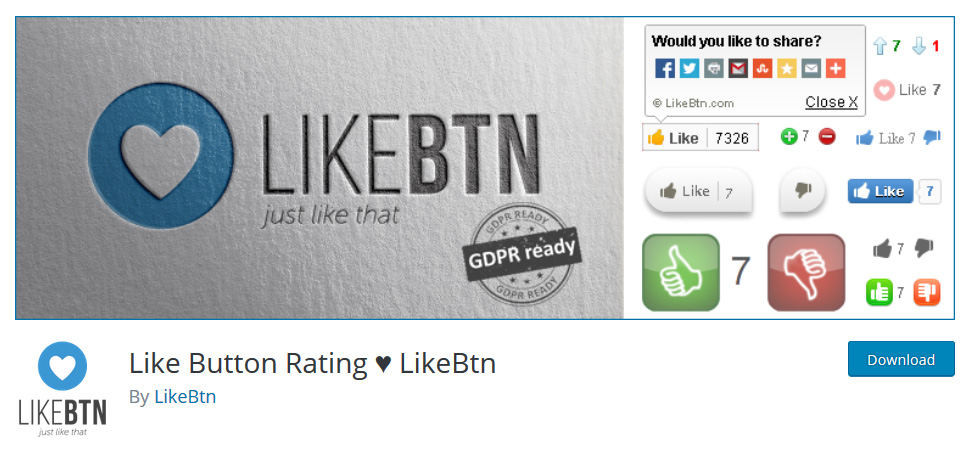 Like Button Voting & Rating is a free WordPress poll plugin that can add likes and votes to your WordPress site. It's free, but it can improve the functionality of your website and paid plugins.
With this plugin, you can add voting features to your WordPress posts and pages, custom post types, WooCommerce products, BuddyPress events, bbPress posts and users.
It provides you with a widget to showcase your favorite content on your website. This plugin is supported by more than 50 parameters, 25 themes, and 11 languages; this is a very powerful plugin.
9. Yasr-Yet Another Stars Rating
YASR provides a powerful star rating system for WordPress, which can help users rate the content on your website. It allows you to make your own comments (voted by commenters) or let visitors vote. Due to the rich content, Google may index comment ratings and visitor ratings. You can also create multiple sets of stars based on multiple conditions of the page or post. Installing plugins does have some technical problems, but there are detailed instructions in the WordPress plugin repository.
After installing the plugin, a meta box will appear, which you can fill in to place the overall comment rating at the beginning or end of the post. Use the shortcode in the visual editor, you can place it anywhere. For guest voting, you can place a shortcode wherever you want the stars to appear. Although the plugin is free, YASR does provide advanced extensions for user reviews, custom rankings, and star customization options.
10. WP ULike
WP ULike is one of the best free WordPress poll plugins on the market. The WP ULike plugin is considered the ultimate solution for any type of voting on your content. The plugin comes with amazing and eye-catching widgets to add this feature to your posts. In addition, by using this plugin, you can also add like or dislike buttons to your website.
This plugin has a free version and a professional version. The professional version unlocks more features for you. For example, don't like voting, Elementor widgets, pre-designed templates, fast and quality customer service, etc.
WP ULike is fully customizable and even allows you to create your own style for each voting system. In addition, you can make full use of its accompanying statistical tools to create more attractive content on your website.
The WP ULike plugin can be easily downloaded from the official WordPress website or the dashboard itself. Just go to WordPress Dashboard> Plugins> Add New File and search for WP ULike in the search box in the upper right corner.
11. Democracy Poll
As the name suggests, Democracy Poll is a simple and modern WordPress poll plugin that allows your users to add their own choices to the polls. You can create single-item and multiple-choice polls, set the end date of the poll, choose from multiple poll design templates, and make more choices.
This is a highly customizable WordPress poll plugin that allows you to limit polls to registered users only. Democratic voting allows you to create random votes and display them to users on multiple pages.
It works with all popular caching plugins (such as W3 Total Cache, WP Super Cache, WordFence, Quick Cache, etc.) to execute faster on your website.
12. bbPress Voting
bbPress is another great WordPress poll plugin, you can add WordPress and bbPress sites. The plugin adds a simple option to vote up and down the system for your posts and comments. Users only need to click the up or down arrow to express their feelings about the post or comment.
The bbPress Voting system is similar to the system used by Reddit. It tells the audience that the number of votes added and dropped for the reply or post has been received. In addition, this plugin is fully responsive and can be used on mobile devices without any problems. This plugin is designed together with Ajax and can save votes immediately after they are released. This means that you can view the highest/lowest votes without refreshing the page.
In addition, each user can vote once in each post or reply, which makes it ideal for websites that are seeking legal votes.
Conclusions – Best WordPress Poll Plugins
In this article, I am sure you know the best WordPress Poll plugins that you can add to your website and increase audience interaction with your website. Almost all plugins mentioned in this list are available in free and professional versions.
These voting systems will bring refreshing changes to your WordPress site and add a lot of value by helping you better understand your audience.
Using the WordPress Poll Plugin, you will understand the popular content on the site, and then you can create similar content to further attract users. If you want to add the survey forms to your website, you can read our article Best WordPress Survey Plugins.
Finally, if you have any questions or suggestions, please feel free to share them with us in the comment section below.