Are you looking for the best WordPress PDF plugins but don't know where to start?
WordPress is one of the most powerful CMS in the world, with many functions, but it cannot display PDF files. You may ask yourself, why is such a powerful CMS unable to display PDF files?
Even if WordPress does not have the ability to display or download PDF files, there are many plugins designed specifically for this purpose.
In this article, we want to introduce the top 22 plugins for embedding PDF files into WordPress.
When you are submitting a large number of documents, it may not be a wise idea to write them in one post. According to statistics, most users will not spend more than a few minutes reading articles.
This is why you should use PDF. By downloading PDF files, users can access and read them anytime, anywhere.
What is a WordPress PDF Viewer Plugins?
PDF is suitable for many situations, and PDF plugins allow you to embed a complete WordPress PDF viewer into your WordPress page.
This way, your visitors can flip through the pages as if they were flipping through a real document, while at the same time zooming in, taking notes, and printing out the document when needed. Some PDF plugins provide other useful tools that can be used to convert blog posts to PDF or generate cover images for PDFs that you upload to your WordPress blog.
In short, a standard PDF viewer allows users to view PDFs as if they were saving files on their own computer. They got the features that PDF expected and other convenient features that WordPress plugin developers put into use.
Why Do You Need the Best WordPress PDF Plugins for Your Website?
WordPress does not support PDF embedding or downloading the PDF in blog posts and pages by default.
If you have a PDF document and try to embed it in WordPress, it will display your file in the form of a downloadable link. After this, if someone clicks on the link then they will leave your website.
The WordPress PDF plugin allows you to display documents on your WordPress website. Then, your website visitors can view them in the PDF viewer while staying on your website.
The PDF plugin can also help your users download any blog post or page as a PDF document. It can ensure that the page is well-formed so that people can save it or print it easily.
Let's take a look at the 22 Best WordPress PDF Plugins for 2022.
List of Best WordPress PDF Viewer Plugins
To help you clear all available options, here are the 22 best WordPress PDF plugins worth studying
PDF Embedder
Embed Any Document
PDF Viewer for WordPress
Google Doc Embedder Plugin
Google Drive Embedder
Algori PDF Viewer
Real3D FlipBook WordPress Plugin
PDF.js Viewer
3D FlipBook
Flowpaper
WooCommerce Product Files Tab
WP Booklet
Vanilla PDF Embed
PDF Viewer
PDF and Print by BestWebSoft
WordPress PDF Light Viewer Plugin
WooCommerce PDF Invoices & Packing Slips
Send PDF for Contact Form 7
Gravity PDF
E2Pdf
PDF Poster
DK PDF
1. PDF Embedder – Best WordPress PDF Plugin
The PDF Embedder plugin has been around for a while, and it is one of the cleanest ways to display PDFs on a website. The free version of PDF Embedder contains most of the functions you need, including quick upload buttons, PDF embedding functions, and regular navigation buttons.
Features of Best WordPress PDF Plugin:
Full-screen mode
Mobile device compatible
Security Options
Advantages of Best WordPress PDF Plugin:
PDF upload only requires one click.
Your PDF will snap into place according to the screen size but the size can also be adjusted manually.
The plug-in only uses JavaScript for display, so compared to using iframe, the viewing experience is much smoother.
You can get advanced features such as full-screen mode, PDF security, and continuous page scrolling.
The premium version of the plugin has a feature for a small one-time payments.
Disadvantages of Best WordPress PDF Plugin:
The free version of this plugin does not provide much security. Therefore, someone may steal your PDF file and use it as their own file.
The toolbar options are not very good and can be improved.
The page flip button is very small and in an odd position in the lower left corner of the screen.
2. Embed Any Document – Best WordPress PDF Plugin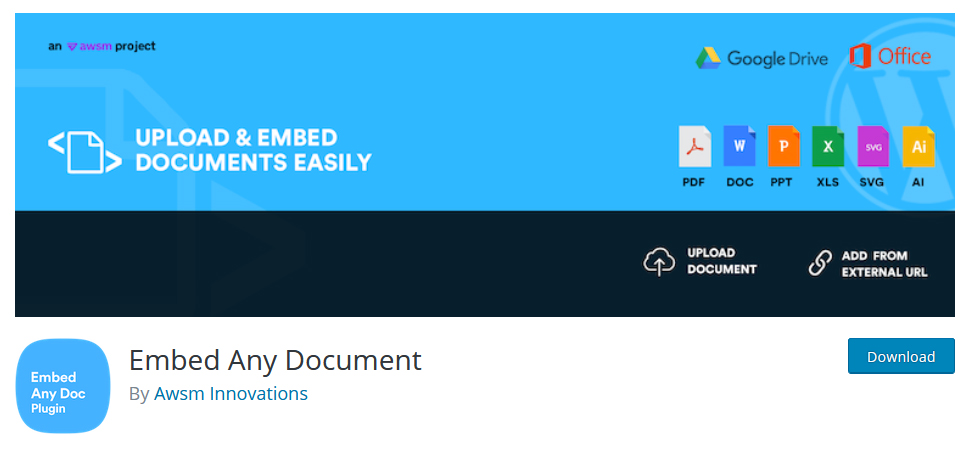 Embed any document is another plugin for embedding PDF files in WordPress. This plugin allows you to upload other files including PDF to WordPress.
Embed Any Document plug-in uses Google Docs and Microsoft Office technology to display PDF files.
After activation on WordPress, an option will be added to the toolbar of the WordPress editor. By clicking "Add Document", you can add any document, including PDF, to your post.
Main features of Best WordPress PDF Plugin:
It provides a clean and inbuilt user interface.
It supports all popular document file types like Microsoft Word, Microsoft PowerPoint, Microsoft Excel, Adobe Portable Document Format, text files, and TIFF images.
You can choose between Microsoft Office Online and Google Docs Viewer to display documents on your website. Moreover, if one service is closed, you can easily switch to another service.
Embed Any Document can be used out of the box, mobile browsing, and cross-browser compatibility is provided.
3. PDF Viewer for WordPress – Best WordPress PDF Plugin
WordPress' PDF Viewer is another plugin on our list that can embed PDF files in WordPress. This plugin is one of the most powerful plugins for displaying PDF files in WordPress.
PDF Viewer is fully responsive. Therefore, each file will be uploaded in its designated size. Another main function of this plugin is that you can still upload any PDF file despite the unlimited size.
Let us discuss the pros and cons of the PDF Viewer plug-in.
Pros
The PDF Viewer WordPress Plugins can be translated into more than 100 languages
The plug-in can be connected to Google Analytics to track how many people read and download your PDF.
Bookmarks and links are supported in the document.
If you wish to insert the PDF in this way, you can use shortcodes.
Developers provide some of the best support and documentation in this market segment.
Cons:
The PDF viewer of the WordPress plugin does not have any tools for protecting PDFs.
4. Google Doc Embedder- Best WordPress PDF Plugin
The main benefit of using Google Doc Embedder is that it supports multiple file types. You don't need to convert files to Google Docs, but I assume that was the case when this plugin was created. The premium version of Google Doc Embedder will not be sold, so all the features covered are available for free.
Advantage:
This plugin is completely free, and it provides you with all the functions it provides.
After the installation is complete, a new option will be added to the WordPress editing toolbar, which can be used to add documents to any post.
Google Doc Embedder supports all formats. Including PDF, Word, PSD and OTF.
The Google Doc Embedder plugin has been translated into multiple language
Cons:
The Google Doc Embedder plugin is hosted by Google. Therefore, the security of the PDF file may not be as good as the security on the server.
It has no local upload function. Therefore, you must first upload the file on Google hosting, and then copy and paste the URL.
5. Google Drive Embedder – Best WordPress PDF Plugin
As mentioned above, WordPress allows you to add pictures, videos, etc. to your posts. However, it does not have the function of embedding PDF into WordPress.
Google Drive Embedder plugin is completely free, and to be simple to use, please download it from the official WordPress website. Then, install and activate it. After activation, you will be able to use all its functions.
This plugin can be used for the connection between WordPress and your Google Drive. You can insert Word, PDF or any other document into a post or page in WordPress.
6. Algori PDF Viewer – Best WordPress PDF Plugin
If you are looking for a plug-in specifically designed for the Gutenberg editor, we recommend that you use the Algori PDF Viewer plug-in. The plugin adds a new box in the editor that allows you to embed PDFs in WordPress.
It is completely free and compatible with all browsers like Safari, Google Chrome, Firefox, Opera and Internet Explorer 11.
This plugin allows you to add multiple files to a page or post at the same time. Algori PDF Viewer also supports the presentation function.
7. Real3D FlipBook WordPress Plugin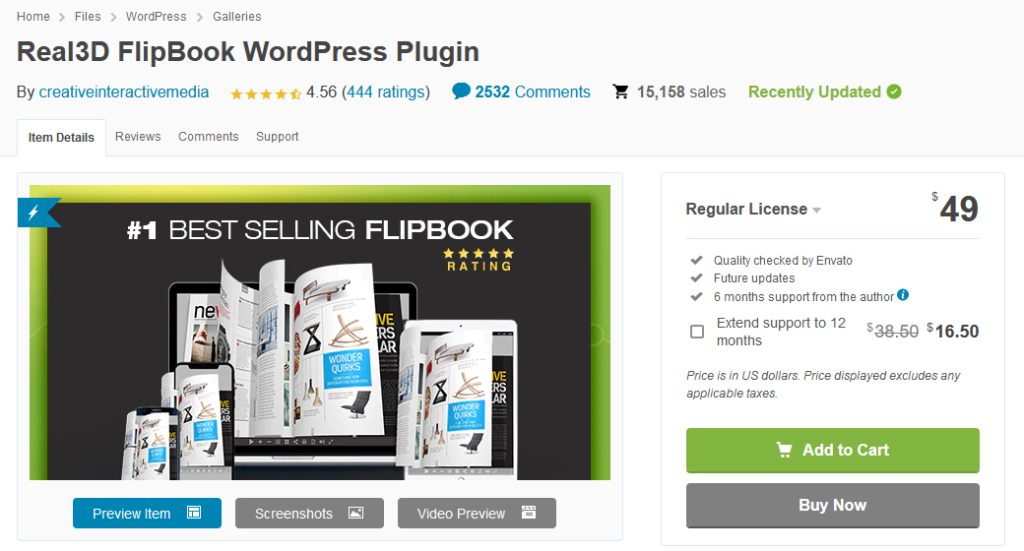 Since the design of Real3D is amazing, we have preserved the most beautiful things, but it is too much for what most people want. If you want to make online magazines or share image-rich brochures with clients and clients, we will like Real3D.
The Real3D FlipBook WordPress plugin focuses on design. Therefore, it uses the lightbox effect to display the file. You can read the actual experience of the magazine through the page-turning technology.
Pros:
It provides the best design for displaying PDF files.
It is fully customizable. For example, you can change colors, keys, panels, etc.
It also allows you to upload images other than PDF.
It is fully responsive to mobile devices.
Cons:
Basic PDF does not need this style of style.
It is more expensive compared to other tools.
Users seem to report frequent errors that crash the entire plugin.
8. PDF.js Viewer
If you simply upload a PDF and embed it on a page with a short code, then this plugin is perfect for you. It also supports Gutenberg block layout, making it universal in almost all WordPress themes (new and old), and its appearance can be customized.
PDF.js Viewer allows you to display PDF files in WordPress posts and pages through simple shortcodes or Gutenberg blocks.
To open documents in the browser it uses Mozilla's PDF.js. Users can get all functions, such as scrolling in documents, searching, printing, and downloading PDF files.
In addition, the plug-in allows you to password protect PDF documents, set advanced zoom settings, display the loading bar, and display partially loaded PDF documents.
Pros:
The document outline displays content on each page, allowing users to quickly browse.
It is one of the few PDF viewers with customizable buttons.
You can protect the PDF with a password.
The plug-in has a function similar to the lazy loading of images, that is, large documents are not fully displayed before navigating to a specific page. This can make your website faster.
Cons:
Some users have reported conflicts between security and cache plugins.
Some Internet Explorer users have encountered problems when viewing PDFs in their browsers.
9. 3D FlipBook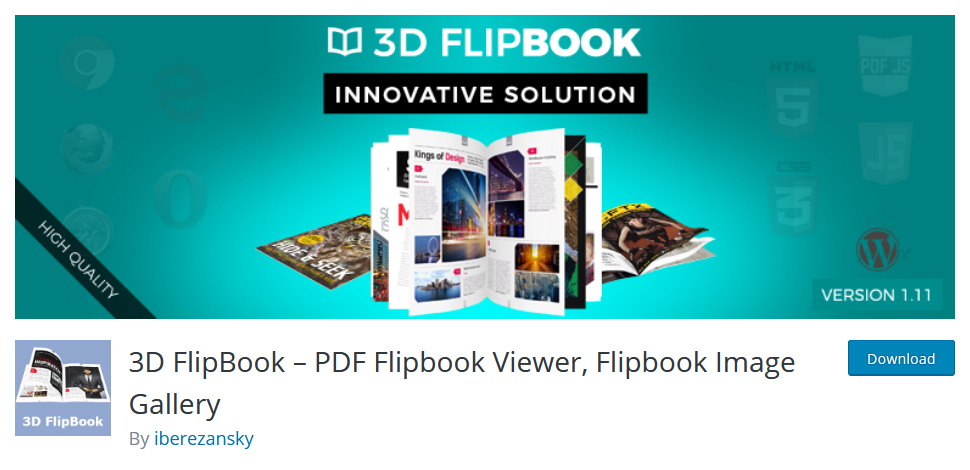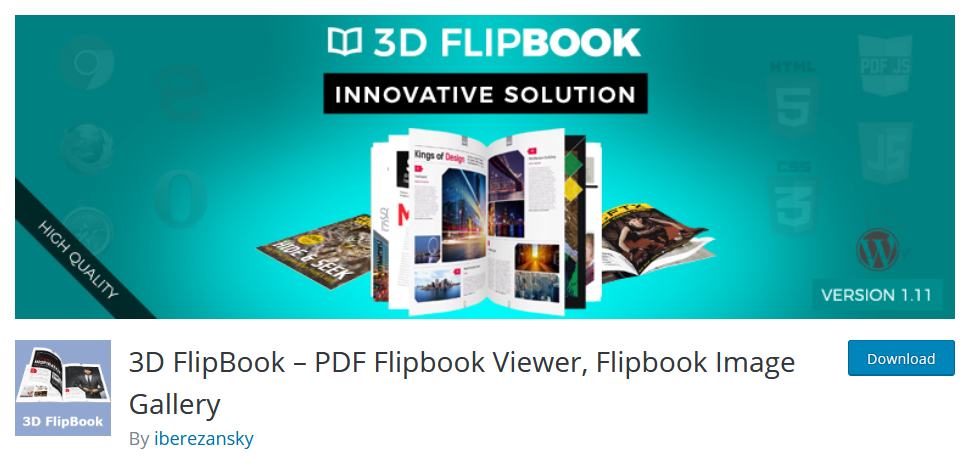 3D FlipBook is a powerful WordPress document viewer that allows you to display PDFs, images and HTML pages as active books. This plugin allows you to present your content in an easy-to-read way.
Key Features
This is an easy-to-use and responsive PDF viewer.
It is perfect for books, magazines, brochures, cards, and booklets websites.
Its flipbook reading functionality will also work smoothly on mobile devices.
3D FlipBook shows the real-world reading experience while reading books. You can customize the page turn over experience of readers the way flipbook pages deform.
It also has usefull features like smart pan mode, PDF bookmarks, PDF search, and auto resolution.
10. Flowpaper
Flowpaper turns your original PDF layout and changes the digital reading experience where users can flip the pages seamlessly. You can embed the flipbook PDF on your site after creating it with this WordPress plugin.
Flowpaper also has a feature that document which you created can be index by Google. It means you can rank your PDF content which you upload in your website in the search engines easily.
11. WooCommerce Product File Tab
The WooCommerce product file tab is allows you to display additional information in the PDF file. In this way, you will be able to show more information to potential customers and increase downloads.
Main features:
The plug-in comes with easy back-end configuration functions.
It supports WPML and Polylang plugins.
It supports all popular file types, ilike PDF, DOC, XLS, PNG, TXT, and ZIP.
12. WP Booklet
WP Booklet focuses on lovely magazine style display, using flip animation and page pop-up windows to enhance the reading experience of booklets or magazines just in real life. It is a free plugin that provides features like Real3D Flip Book.
The plug-in supports PDF and images, so you can also use the photo flip book. They will even add some templates to help you get started.
Pros:
These templates are very useful for beginners who don't want to mess up any settings or designs.
You can upload PDFs and images in batches.
Page thumbnails help users browse documents.
Cons:
Changing your flipbook style requires access to site files, which makes it very painful.
Obviously, some users did not display the upload PDF button.
Compared to the display of other WordPress PDF viewers in this list, it is not the most beautiful.
13. Vanilla PDF Embed
For some reason, this PDF viewer is called Vanilla. With its basic and minimalist user interface PDF can be used in the post.There is no premium version, so you can perform page jump, search, zoom, and print operations without paying a dime. Check out the Vanilla PDF embedded plugin.
The biggest advantage of this plugin is its ease of use. Vanilla-pdf-embed has more than 10,000 active installations, giving it a quality badge!
After uploading the file to the media library, you need to enter the URL of the attachment page separately in the WordPress visual editor. Then, the file will be embedded in the post. However, if the file is hosted on another website, this method will not work. The files can be hosted only in WordPress media libraries.
Pros:
It does not have a lot of unnecessary functions, and the shortcode is very easy to use.
This plugin provides a clear reading experience for your users.
Cons:
As we all know, many mobile browsers display gray boxes instead of PDFs.
You have to upload the PDF as a shortcode because there is no button to quickly upload.
You need to put a small amount of code in the shortcode to customize the viewer.
14. PDF Viewer
The next plug-in is the time-tested PDF Viewer. The last update occurred six years ago. Nevertheless, it is reliable, with more than 10,000 active installations installed, and it has received a four-star rating. User reviews speak for themselves.
The plugin only uses JavaScript, so you can get a smooth experience on the front end. This also means that your users can view PDFs without installing any other browser software. In addition, the viewer also has several tools, including page jump, zooming and bookmarking.
To use this plugin, please log in to WordPress, find PDF Viewer in the plugin menu and activate it. Don't forget to enter the settings and set PDF Viewer as default. When creating a post, please use the shortcode [pdfviewer] … [/pdfviewer].
Pros:
WordPress multisite supports this viewer plugin.
Search for keywords to find a specific location in the document.
The setting page is very simple, the main points are very simple, provide the required shortcode, and some settings for adjusting the height and width of the viewer.
Cons:
This plugin hasn't been updated from last two years. This might get cause some issues while using it.
The plugin has some issues with Interenet Explorer.
15. PDF and Print by BestWebSoft
Not every website needs an embedded PDF that is highlighted on the page. In this case, the "Download PDF" button may be the best solution. BestWebSoft's PDF & Print is a simple PDF plugin for WordPress, which allows you to place download PDF buttons almost anywhere on your website.
You can customize the style, set the size of the PDF document, and even customize the margins of the PDF document to make it fully meet your requirements. With the professional version, you will be able to add watermarks, adjust the PDF layout from portrait to landscape, and even change the PDF file name.
Feature:
PDF & Print is an easy-to-use plug-in that does not require any coding skills.
You will be able to display PDF and print buttons for specific user roles.
You can add PDF and print buttons to posts, pages, search results, custom post types and archives easily.
It allows you to set and change PDF button operations, including downloading the PDF and opening the PDF in a new window.
16. WordPress PDF Light Viewer Plugin
Has your company just released a lengthy annual report or industry research report? You will need to use a plugin like WordPress PDF Light Viewer to embed such a large document. There is no restrictions on uploading files or file size in this plugin. It also provides the lazy load integration feature for your website would like to use when sharing large contet files. All of these (and more) are provided for free with the free version of this plugin.
Like most WordPress PDF plugins, you will have a responsive design and batch PDF import, but when uploading multiple large PDFs, there are some professional additional features that will come in handy. When you purchase the professional version of the plug-in, organize by category, search for your PDFs, and view the PDFs in a pop-up window.
Pros:
Perform important tasks with ease
Thumbnail navigation and smooth page scrolling
Use the toolbar to adjust zoom and print
Cons:
Many advanced features in the pro version of the plugin
17. WooCommerce PDF Invoices & Packing Slips
WooCommerce PDF Invoice and Packing List is a PDF plugin for WordPress that allows you to generate, download and send PDF invoices with order confirmation emails in the WooCommerce store.
You can get a basic template and be able to customize it according to your business needs. The plugin can also help you process packing slips and invoices from the WooCommerce management area.
18. Send PDF for Contact Form 7
If you use the Contact Form 7 plug-in, you can let Send PDF for Contact Form 7 capture the submitted information in PDF format. This provides you with more features than the contact form plugin itself, allowing you to access your submissions without logging in to WordPress.
19. Gravity PDF
Gravity PDF is widely used by the WordPress community to capture information. Using this plug-in, you will be able to view the information submitted each time in a beautiful PDF file.
The plugin provides a simple option to protect your information with a password.
20. E2Pdf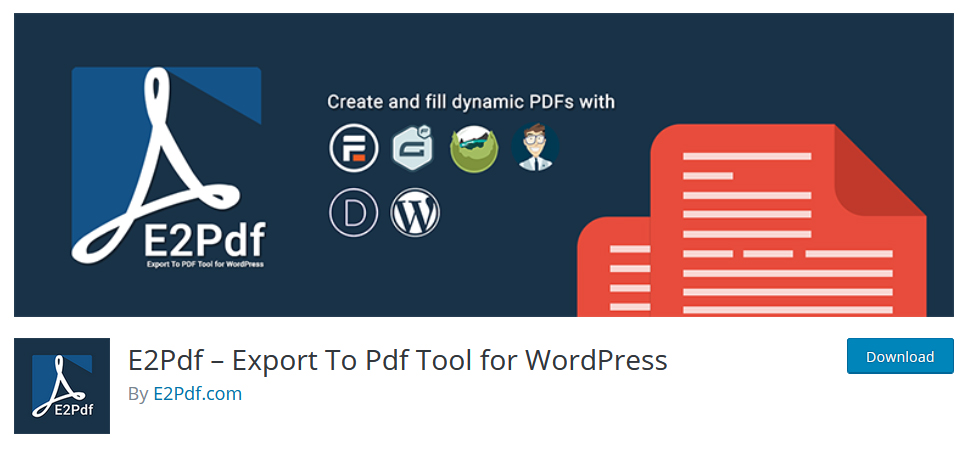 E2PDF is a simple WordPress PDF plugin to create, edit and display the PDF documents on your website.
You can display static or dynamic PDF files to the audience. It allows you to create and edit PDF documents and forms without leaving your WordPress site.
It also allows you to create PDF forms that can be used on WordPress posts, pages or web forms.
21. PDF Poster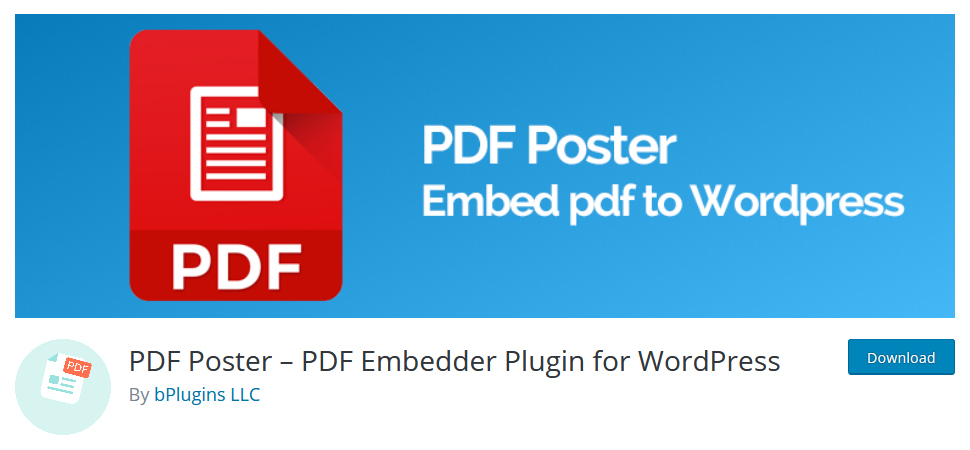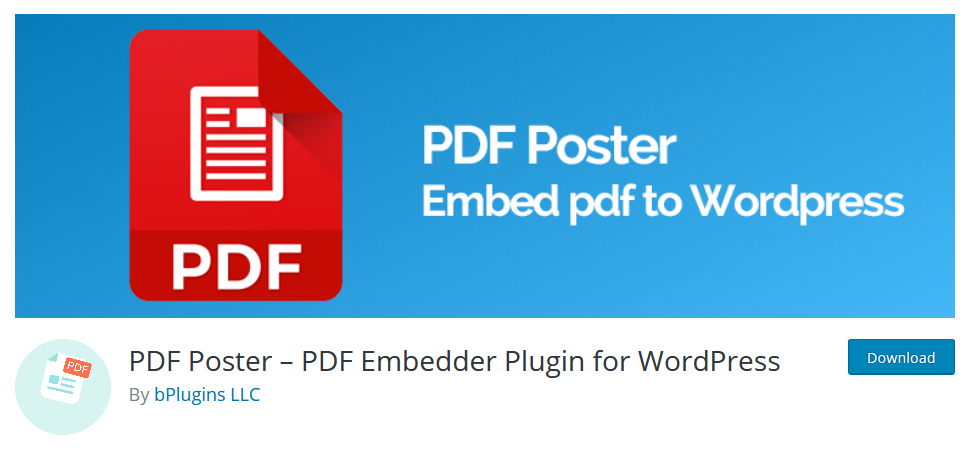 If you just want a plug-in to handle your basic PDF viewer needs, PDF Poster will do the job. You can use it to embed unlimited PDF files on your website without ads. The viewer includes a download button, a zoom function, and simple page navigation arrows.
Compared to some of the other plugins on this list, the only real disadvantage of this plugin is that it is a bit lacking in basic aspects. In other words, if you don't need a lot of gorgeous features and just want something reliable and low-cost, then PDF posters are a reliable competitor.
This plugin can be downloaded for free.
22. DK PDF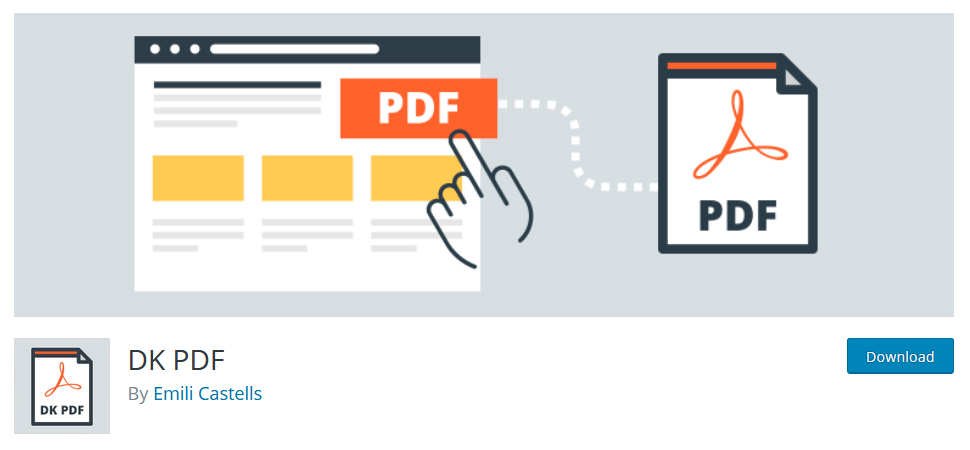 DK PDF is a feature-rich plug-in that allows users to download their posts and pages in PDF format by clicking a button. In addition, with the help of this plugin, users can convert their posts and pages to PDF and download them.
The DK PDF plugin from WordPress PDF Plugins comes with an easy-to-use interface for installing PDF download buttons and creating your own custom headers and footers to download PDFs. However, the simple interface of this plugin can help you insert this button into posts, pages, and custom post types.
In addition, through the use of custom CSS, where custom CSS is a specific topic post related to the customer's "Additional CSS" screen. Each post has its own post, and you can create your own custom header, footer, and logo.
Last but not least, it also comes with a shortcode, where the shortcode is those special functions/tags that allow users to quickly and easily extract the relevant bits of the mentioned function into their content.
Conclusion – Best WordPress PDF Plugins
We hope that these 22 Best WordPress PDF plugins for 2022 can help you find a PDF plugin that this plugin allows you and visitors to view PDF files on the same web page. These plugins allow you to-
Display PDF files in WordPress posts and pages.
Download their posts and pages in PDF format.
Add large PDF files in a multi-page format.
Provide a full-screen reading view of PDF documents, and convert documents to images.
Supports different document formats.
If you want users to embed PDF files on your website, then PDF Embedder is the best plug-in.
As for creating and editing PDF documents directly in WordPress, then we recommend E2Pdf.
If you want visitors to view PDF files, use a PDF viewer and finally display all PDF files as a book. We recommend WP Booklet.
We hope this article helped you find the Best WordPress PDF Plugins. If you have any queries or need to share your thoughts about this article, please feel free to share them with us. We also have written a post listing the best page builders for WordPress. So that you can create a website with ease.
You can also check our comparison of the best email marketing services. If you want to build an online website without needing any other help with a very reasonable price then you should go for Ready Made Website.
Get Premium services totally free like – setting up the website, SSL, Hosting, Domain, Website Builder, Support, and much more. Don't think too much go for Ready Made Website and get your business online.
If you liked this article, then please share this article with your social friends. You can also Like our page on Twitter and Facebook. Alan Franklin
Alan Franklin is a professional Web Developer and a WordPress Blogger at Delegate Studio. He has a huge passion for WordPress and using his experience for over a decade.