Are you looking for the best accordion plug-in? The accordion is a simple web design technique that allows you to display content in collapsible tabs. In this article, we have carefully selected the 13 best WordPress accordion plugins that can be used on your website.
You can create an accordion without plug-ins, but when you have some great tools at hand, why do you want to code? There are accordion plugins for various purposes in WordPress. We will see the best WordPress accordion plugins and their usage in 2022.
In this article, we will share our selection of the 13 Best WordPress Accordion Plugins (in no particular order). Let's start!
What is an Accordion?
The accordion is a feature that can help you add a lot of content to your page more easily. With the accordion, you can display large amounts of data in an easy-to-view way. This is why it is often used for frequently asked questions because it is preferable to text walls and it is easier to find solutions. After displaying your content as an accordion, you will avoid long scrolling and completely eliminate daunting large blocks of text. This is why the accordion is used to display frequently asked questions (FAQ).
In the FAQ, your users can click on any question and then expand it into an answer tab. By default, the answer is hidden. This saves them time to read only the questions they need. It also prevents users from scrolling on the WordPress site unnecessarily.
Why do you need an Accordion Plugin?
The accordion is used to display content items with a large amount of text. Some plugins can help you create these convenient web design elements in a vertical, horizontal, or tabbed style on your website.
In fact, the Frequently Asked Questions (FAQ) section of the website is usually displayed in accordion style. The questions are displayed in a concise list, and the answer text for each answer is hidden in the accordion panel. This way, users can easily find the questions they need without having to scroll endlessly through the content they don't need.
Fortunately, even if you don't have a lot of coding knowledge, you can use a plugin to add this dynamic element to your WordPress site. In addition, many of the tools provided provide an interface that allows you to easily use text formats, images, and other media to design an accordion.
Depending on the plug-in you choose, you may also have many customization options. In this way, you can create an accordion that matches the theme of your website and enhance your brand. Let's quickly go to the list of the 13 best WordPress accordion plugins for your website.
List of the 13 Best WordPress Accordion Plugins
There are usually many free plugins available. When it comes to the accordion, there are several good options to consider. Some multi-level Accordion WordPress plugins provide you the multi-level features like – the Accordion and Easy Accordion plugins. While some come with a horizontal accordion WordPress Plugin creates a horizontal accordion.
Below is the Free Best WordPress Accordion Plugins with the highest ratings and are easy to use. All these free Best WordPress Accordion Plugins have the latest features and will be supported in 2022.
Their professional version has more powerful features and may be useful for your business. Please review the given Best WordPress accordion plugins and their features, advantages, and disadvantages below, and then choose the plugin that fits your list of requirements-
1. Accordion – Best WordPress Accordion Plugin
The Accordion plugin we list as number one in our Best WordPress Accordion Plugin list because it is a simple and powerful way to create FAQs, tags, WooCommerce FAQ tags, etc.
It allows you to customize the appearance to match your brand with color and font size. In addition, you can create unlimited accordions and labels. It allows you to change the style of the opened and closed accordion, hide the accordion without deleting it, the text alignment of the content, etc.
Features of Best WordPress Accordion Plugin
Customization: This plugin allows you to customize the style, content, title, container, etc. to seamlessly integrate it with the website theme.
Create unlimited accordion FAQs for free.
Copy accordion: This allows you to copy all styles from the old accordion to the new accordion to create quickly.
There is also an advanced version that allows you to use the following functions:
The shortcode can be used directly within the accordion content.
Easily create multi-layer nested accordions.
Make it active when the mouse is hovered.
The lazy loading function can be loaded after the page is loaded so that your website can get a faster ranking.
Easily edit titles and content to customize padding and margins.
You can also create vertical tabs.
Pros of Best WordPress Accordion Plugin
Responsive design
Infinite Accordion
Large range of customization
Cons Best WordPress Accordion Plugin
Compared with other similar plugins, the loading speed is slower
2. Accordion FAQ – Best WordPress Accordion Plugin
Accordion FAQ we list on number 2 in our Best WordPress Accordion Plugins list. It is one of the free WordPress accordion plugins that provide shortcode integration. It has a drag and drop generator to help you easily add an accordion anywhere on your WordPress blog. You can sort the accordion and manage their positions by dragging them up or down on the back end.
It has multiple templates, unlimited color options, Font Awesome icon support, a bootstrap framework for responsive design, etc. Accordion FAQs load faster, which is perfect for the search engine ranking of your website.
Since it is built in Bootstrap, the plugin can provide fast rendering. The Accordion FAQ is an amazing WordPress accordion plugin with an interactive and easy-to-use interface. The plugin has a responsive design and generates an accordion that can be embedded as a shortcode anywhere on your website.
Here are some features of this plugin:
Drag and drop generator with API integration.
Use draggable options to easily sort items.
Easily add content in the input field.
Easily change the color to any color you want.
Hide all accordions or show all options when the page loads.
There is also a professional version with the following features:
There are already 8 design templates available.
More than 30 kinds of content animations.
4 types of background overlays.
Hover over the accordion.
The ability to easily preview the project.
Pros Best WordPress Accordion Plugin
Infinite Accordion
Based on the Bootstrap framework
Compatible with all devices and major browsers
Cons Best WordPress Accordion Plugin
Support not provided.
3. Easy Accordion – Best WordPress Accordion Plugin
Easy Accordion we list number 3 in our Best WordPress Accordion Plugins list. It is a popular accordion plugin that can help you create a responsive drag-and-drop accordion and easily customize it to your page, and you can customize a lot of content. It was created by the team of ShapedPlugin and can be used for free in the WordPress plugin directory.
Its free version already has a lot of useful features, such as drag and drop sorting, multiple accordion actions (open or close multiple accordions together), open accordion when clicking or hovering, etc. The plug-in is also fully responsive and supports RTL language.
The professional version has more than 16 themes and a series of other features, such as nested accordions, vertical accordions, WooCommerce product accordions, and animations and effects.
In terms of customization, no other WordPress accordion plugin offers so many options. You will get a large number of expanding/collapse style icons, color options, transition time decisions, and layout options.
Features of Easy Accordion:
You can open multiple accordions at the same time.
Every part of the accordion can be customized.
The professional version provides you with more than 16 accordion themes with modern designs according to the design
The advanced version also has advanced shortcodes for categories and custom taxonomies.
Accordion content of WP Classic Editor.
Drag and drop the accordion to sort it.
Configure activation in response to mouse clicks or mouse hovering.
Easily configure the mode when the page loads, whether it is opened first, all opened or all folded.
Easily configure borders, title background colors, margins, background colors, etc.
Use unlimited options to change the style at will.
4. Tab – Accordion, FAQ – Best WordPress Accordion Plugin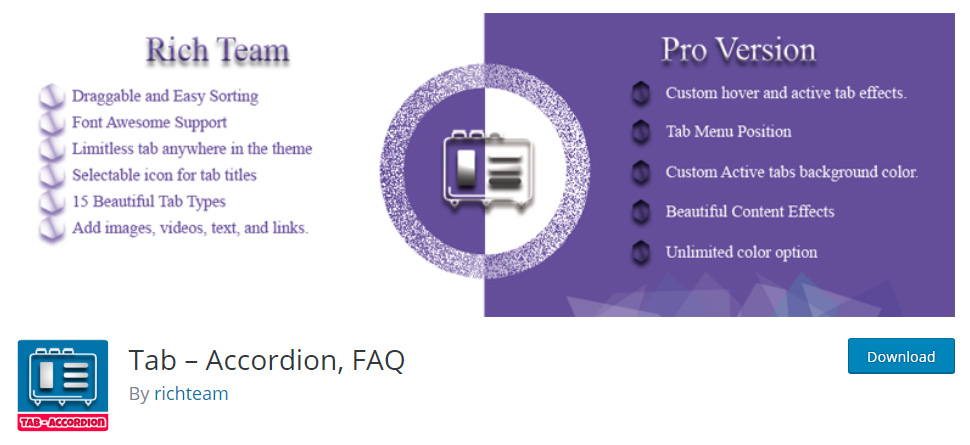 Tab Accordion and FAQ is a WordPress plugin that allows you to add beautiful animated tags and accordions in WordPress. You can easily add responsive horizontal, vertical, animation, and other accordions to WordPress posts, pages, and sidebar widget areas.
It has multiple transition effects, different layouts, drag-and-drop functions for sorting tabs, etc. You can adjust its colors, icons, and animation options to suit your website style, and it has an easy-to-use drag-and-drop interface for tag sorting on the backend.
Here are some features of this plugin:
31 types of labels and 31 types of accordions.
Can be used on a post or page, or as a widget.
The tab transition can be customized.
An unlimited number of labels or accordions or FAQs can be created.
5. Ultimate Blocks – Best WordPress Accordion Plugin
Ultimate Blocks is a plug-in that can only be used with the Gutenberg block editor. It is a Swiss army knife with useful new blocks that are not included in the editor by default. One of them is the Content Toggle (Accordion) block.
You can also use it to create an unlimited number of foldable labels in multiple colors and have a branched structure (accordion in an accordion). In addition to the color options, the only other customization option for this block is the initial state-folded or visible.
In short, this plugin is enough to get you started and help you determine whether the accordion is suitable for your website layout. However, if you are using the Classic editor, this plugin is not your ideal solution.
Here are some features of this plugin:
Support FAQ structure to display your FAQ in Google SERP
Easily configure whether the accordion is folded or opened by default.
Easily change the color of the container and the color of the title.
There are other important blocks, such as table of contents, tabbed content, testimonials, etc.
Here are Some Other Best WordPress Accordion Plugins on Our List
6. Heroic FAQs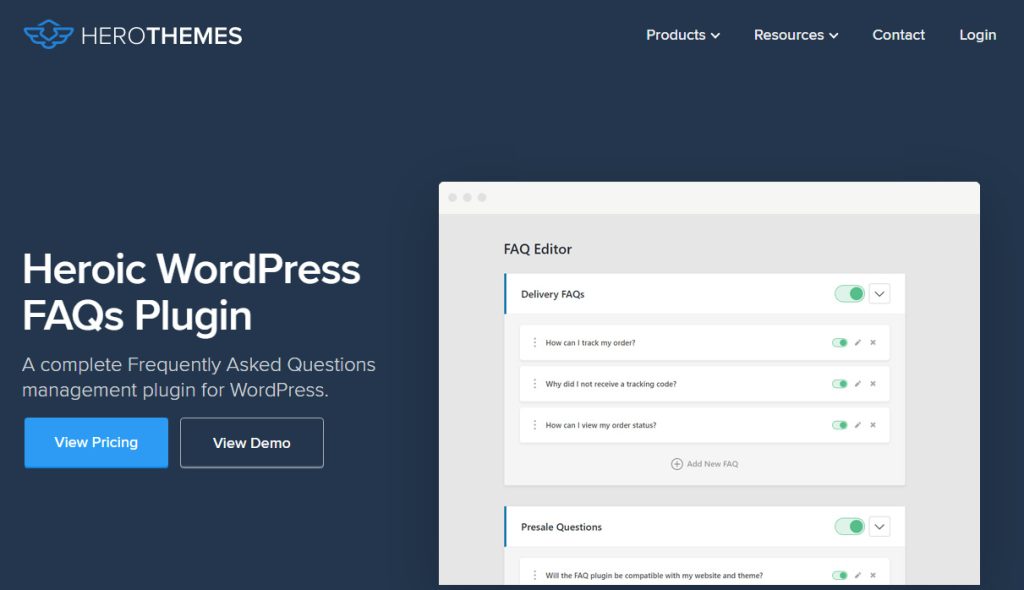 Heroic FAQs is a beautifully designed FAQs plug-in developed by Hero Themes. The plug-in has a very intuitive interface with a drag-and-drop editor to easily build FAQs.
It also allows you to edit all FAQs on a single page, thus simplifying the process and saving some time.
You can use this plugin to create a rich FAQ and add images, blockquotes, lists, videos, etc.
The plugin allows you to choose FAQs from 5 different predefined styles. However, you can also customize the design according to the brand of the website.
Here are some features of this plugin:
Drag and drop interface
Add image/video to FAQ
5 predefined FAQ styles
Custom FAQ Order
Mobile friendly
CSS3 animation
Prepare for translation
7. Helpie FAQ
One of the main purposes of using the accordion plugin is to create collapsible FAQ content to answer common questions about products or services.
Helpie FAQ is an easy-to-use WordPress accordion plugin that can be used to create and embed FAQ pages and sections anywhere on your website. It has been optimized to answer the most difficult questions of customers and has proven to be an effective way to reduce support tickets.
The Helpie FAQ plug-in is integrated with the Helpie knowledge base plug-in to create a customer self-service portal to meet customer support needs.
Features of Helpie FAQ
Works well with all page builders and has a FAQ widget for creating accordions using Elementor page builder.
It has a shortcode generator, can customize and embed FAQs, and can be used with any post type
Has an embedded search bar so that customers can quickly search and find answers.
You can create a "FAQ" tab for WooCommerce products
The professional version has useful features such as changing accordion color, font and font color and size, user FAQ submission, automatic FAQ sorting and FAQ insights (tracking).
8. WPB Accordion Menu or Category
WPB Accordion Menu or Category is a free WordPress category accordion menu plugin. The plug-in is very easy to use, because all you need to do is install the plug-in, and the rest of the work will be done. It allows users to choose a custom WordPress menu or any taxonomy, such as post tags, categories, WooCommerce post categories and more.
In addition, it can display menus using WordPress widgets or shortcodes. In addition, it also provides 6 free versions of skins. You can improve its grade by upgrading to the professional version.
Functions of the WPB accordion menu
Support a variety of menu accordions
It is compatible with WooCommerce and other e-commerce plugins.
Can create category accordion, it supports custom taxonomy.
The professional version has more color customization options for FontAwesome and Themify icons.
It allows you to sort the categories in a specific order, such as alphabetically, numerically, or more.
Users can use this plugin to switch the display of the current number of posts in each category.
9. Shortcodes Ultimate
Shortcodes Ultimate is a comprehensive WordPress plugin that comes with a set of shortcodes that can add multiple functions. You can use this plugin to add an accordion on your site with its one-click shortcode insertion and real-time preview.
It has a custom widget that you can use to add an accordion to any widget area of ​​your WordPress website. Shortcodes Ultimate is easy to use and can run smoothly with modern WordPress themes.
It provides many shortcodes and you can add them almost anywhere, for example in a post editor, widget or template file. These shortcodes can help you create labels, buttons, sliders, etc.
Here are some features of this plugin:
More than 50 shortcodes have been inserted.
You can add shortcodes with just one click.
Can also be used with Gutenberg.
Use a custom CSS editor to edit the design.
You can purchase more plugins to get more options to add to this plugin.
10. Lightweight accordion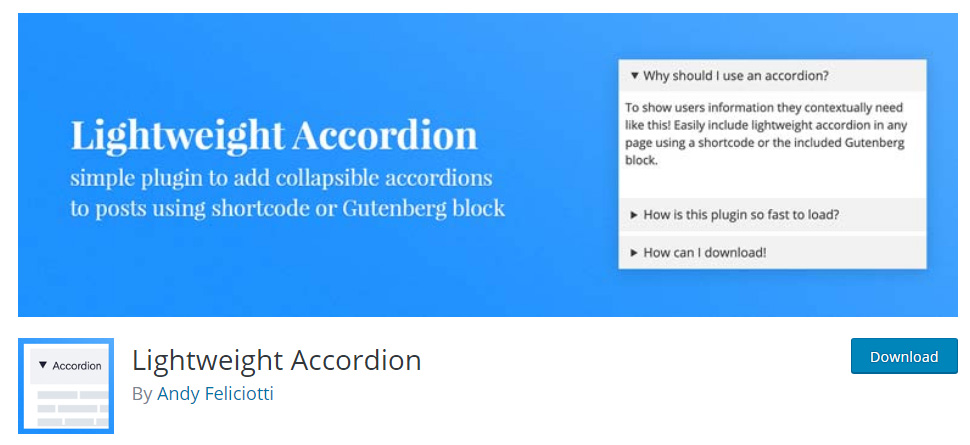 Lightweight accordion adds a foldable accordion to your site with a small code footprint. The plugin uses the details HTML markup and a smaller (optional) CSS file to create a Javascript-free accordion for best performance.
The plugin is compatible with Gutenberg and classic editors via shortcodes. Other options in the accordion include generating text and background colors, which are turned on by default, and even FAQ mode options.
11. Bellows Accordion Menu
The Bellows Accordion Menu is another great responsive accordion WordPress plugin. This is one of the widely used WordPress accordion menu plugins. This powerful plugin can organize your content in a functional hierarchy, allowing your website visitors to quickly scroll down to what they are looking for. Moreover, it is easy to set up and implement using shortcodes, widgets, or PHP snippets.
In addition, it provides 20 different color combinations for you to choose from. This means you can choose the same color palette as the theme of the website. There are other customizable settings available, including switching icons, fills, fonts, text and background colors, and more. Its advanced menu generator function allows you to create and preview menus.
The plugin is developed by SevenSpark and allows you to build a beautiful and responsive accordion for your website.
You can choose an accordion from 3 different styles of this plugin. But you can also customize the style from their accordion customization settings.
Here are some key features of this plugin:
3Accordion Skin
Full response
Add images, icons and custom content to the accordion
Shortcode integration
Widget integration
Multiple sub-menus in the accordion
12. Essential Addons for Elementor
Providing more than 60 unique widgets, Elementor Essential Addons is a multifunctional plug-in. Many of its features include two accordions widgets-Advanced Accordion and Image Accordion. As the name suggests, it requires Elementor WordPress page builder to run.
As far as advanced accordion is concerned, this plugin provides a range of options expected by a wide range of accordion editors: icon options, images in text, color options, and layout options, all of which can be easily configured in Elementor's style tab.
With "Image Accordion", you can get a striking accordion effect on the image, and you can easily configure the effect to work when you click or hover, thereby providing a dynamic user experience.
Features of Elementor
Highly customizable accordion
Sports effect
Visual page builder
Drag and drop editing
Easy to build
40+ free widgets
Custom fonts and icons
Compatible with WooCommerce
Strong support
Custom CSS
Full response
13. Smooth Accordion
Smooth Accordion is a simple WordPress accordion plugin. Like other accordion plugins, it allows you to add accordions to pages and posts. Smooth Accordion adds an icon to your WordPress post editor to help you instantly add an accordion to your posts and pages.
You can customize the background color, add custom styles to the accordion, and easily align the content in the plugin settings.
Conclusion – Best WordPress Accordion Plugins
Creating an accordion is no longer a problem. You already checked the above 13 Best WordPress Accordion Plugins and different options for you to choose from, which provides an excellent choice for you to create an accordion that suits your needs.
Additionally, if you use Gutenberg and want to use more blocks to edit the content you can try Ultimate Blocks.
Shortcodes Ultimate is another option with an accordion that can be used to edit your content. Therefore, if you already have it, please ignore the other options.
If you have images and want to make the accordion attractive to users by adding dynamic content, then the Accordion Slider and Grid accordion are good choices.
Similarly, if you want a feature-rich plug-in, you can use the Tab Accordion. However, If you want a simple and easy-to-use plug-in, then the free accordion plug-in is a good tool to consider along with the accordion shortcode.
If you already have or plan to have Elementor Page Builder, you don't need to add other options. It provides you with a great choice for editing content. If you have an existing website, you can easily modify it.
Or if you are looking to build a website. Then Delegate Studio provides a ready-made website service with Elementor Page Builder. We will not set up only a website, but also a complete solution, such as Cloud Hosting, Domain, Website Installation, SSL, On-page SEO, and Customer Support, and the price is very low. Therefore, don't think you can start your online business just by checking it out.
Hope this article can help you find the Best WordPress accordion plugin for your website. If you want to share some opinions or comments, please write to us below.