Are you looking for an Email Newsletter WordPress Plugin for your WordPress website? Creating an email list through a newsletter is one of the best ways to grow your business. The email newsletter is used to allow your website visitors to subscribe, so they can receive email updates about your blog's new article, new promotions, etc. In this article, you will know some of the best Email Newsletter WordPress Plugins that you can use to easily build and expand your email list.
Newsletters are very important. However, managing an email list and taking the time to create and send newsletters does not always fit your schedule (or budget). Did you know that you can send newsletters directly from the WordPress dashboard? Even better – can you use many Email newsletter WordPress plugins to simplify setup?
Today, we will explore some of the easiest ways to manage newsletters with WordPress. So, without wasting much time, let's start with what we think are the best Email Newsletter WordPress Plugins.
Best Email Newsletter WordPress Plugins
Mailchimp
Constant Content
OptinMonster
SendinBlue
MailPoet
Bloom
Newsletter
Mailster
Email-Subscriber
MailJet
MailOptin
Jackmail
Tribulant Newsletters Lite
SendPress
Newsletter Manager XYZ
Sleeknote
Icegram
Thrive Leads
WP Subscribe Pro
Hubspot
ConvertPro
ConvertBox
WP Notification Bar Pro
Drip
MailerLite
5 Best Email Newsletter WordPress Plugins
1. MailChimp – Best Email Newsletter WordPress Plugin
MailChimp is one of the most popular Email Newsletter WordPress plugins. It enables you to increase the MailChimp list. The plug-in is also useful for you to write newsletters in a variety of ways. It allows your users to easily subscribe to your newsletter. Up to 2,000 subscriptions are free. Therefore, most startups choose it wisely. Once your business grows with the help of this Email Newsletter WordPress plugin, you can easily use it to adapt to the advanced version.
MailChimp also has many functions for news subscriptions on your website. You can create multiple forms with the help of the advanced version. Starting from the free version, you can only use one form. With AJAX and this Email newsletter WordPress plugins you can submit the subscription form. Therefore, submitting the form will not reload the entire web page or form.
Introduction Video of Mailchimp:
Features of Mailchimp:
Style generator
Visual chart report
Email notification
Well documented
WooCommerce integration will record sales from email campaigns
2. Constant Content – Best Email Newsletter WordPress Plugin
Constant Content is the second-best Email Newsletter WordPress Plugin on our list. It is a service that can be used to build email lists and send emails. We believe this is the best email marketing service method for small businesses.
Due to the popularity of Constant Content, leading form and Email Newsletter WordPress plugins (such as WPForms) provide built-in integration for Constant Content, so you can quickly build news subscriber forms.
Constant content integration is also provided in the free version of WPForms.
This allows you to easily build email lists from your WordPress site while relying on the powerful Constant Content email delivery platform to send emails.
Features of Constant Content
With Constant Content users can set up welcome emails, automatic response series, and anniversary and birthday emails to be automatically sent to contacts based on certain trigger conditions. After users have spent some time customizing emails, they don't have to worry about them anymore until they are ready to modify their content.
Contact Management – ​​The contact management dashboard of the solution provides all the tools users need to organize subscribers into a contact list. Marketers can upload text files or spreadsheets for automatic processing, or they can import contacts directly from Outlook or Gmail. Marking contacts and adding custom fields is a breeze, Constant Content allows users to clean up the list by avoiding duplication.
3. OptinMonster – Best Email Newsletter WordPress Plugin
It is the third best Email Newsletter WordPress plugin in the list. OptinMonster is an Email newsletter WordPress plugin that provides you with form and functionality.
It helps to create various visually stunning forms-pop-up windows, slideshows, sidebar widgets, etc. Thanks to the intuitive drag-and-drop generator, no coding skills are required.
What does OptinMonster do
The plugin uses exit intent technology. It tracks the user's mouse behavior and displays the form before they leave the page. Not sure which form to use? Perform an A/B test. You can also set targeting parameters to narrow your audience.
Contrary to the first three, this plugin is a form generator. If you want to run a newsletter campaign, you must integrate it with the email marketing plugin. Fortunately, it applies to almost everything.
The plugin claims to increase the conversion rate to 785%. With more than 780.000 users and a Fortune 500 investment portfolio, it is incredible!
4. SendinBlue – Email Newsletter WordPress Plugin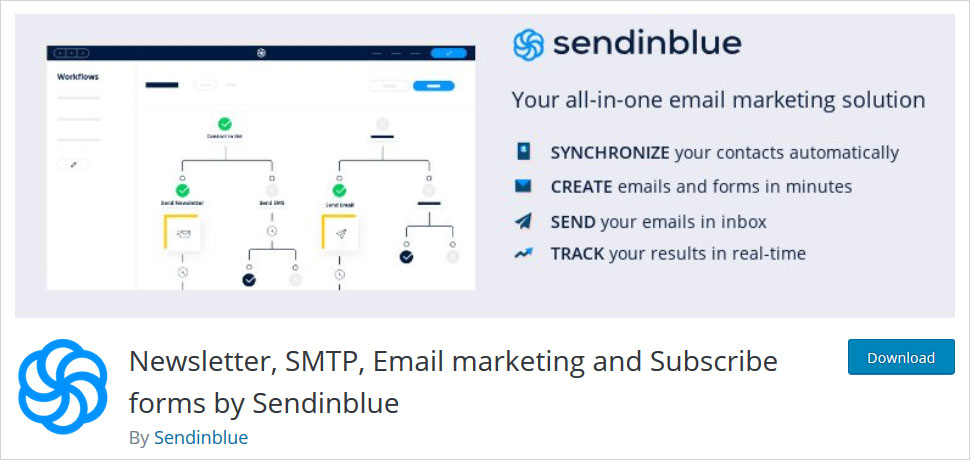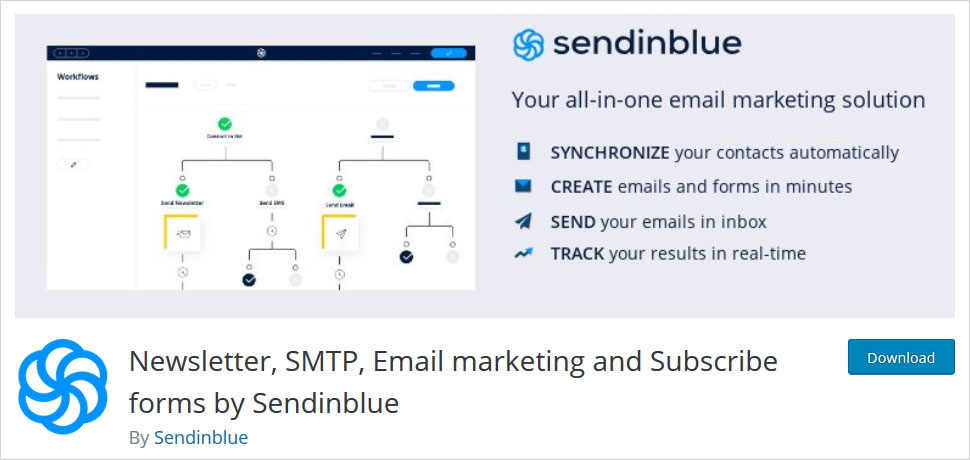 Sendinblue is another most popular recommended Email Newsletter WordPress Plugin also for marketing services. It is easy to use and has a free plan, as well as a simple plugin that can be added to WordPress.
Similarly, you can also use Sendinblue to send emails through your website. In fact, this is our highest recommendation for the best SMTP email service provider with high email delivery capabilities.
Features of SendinBlue
Build a custom subscription form and embed it in a post, page or widget area
Use drag and drop tools to create emails from scratch (or start from a template)
Segment and automate your newsletter in multiple ways
View real-time statistics about your emails, such as clicks, opens, etc.
5. MailPoet – Email Newsletter WordPress Plugin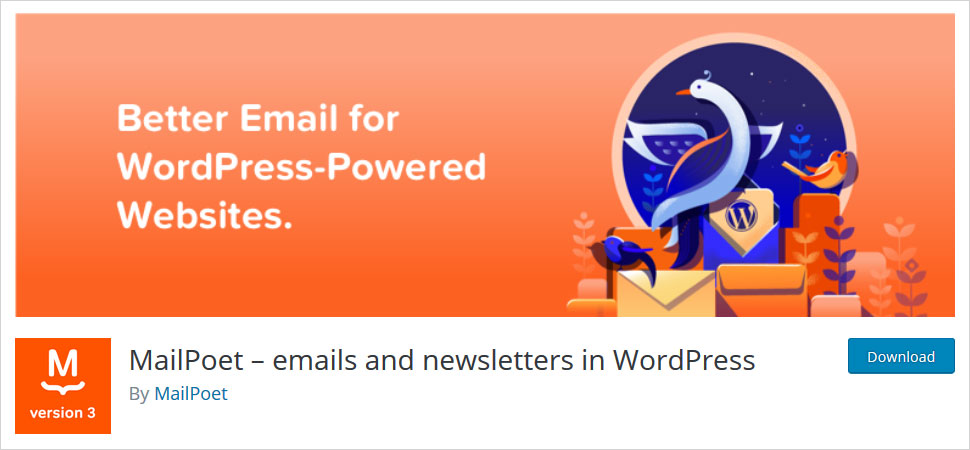 If you want to increase email subscribers to your website, MailPoet can help you a lot. You can even easily expand on the website without leaving the admin panel. With the MailPoet Email newsletter WordPress plugin, you can easily use it on any WordPress website without any problems. It has many templates for you to choose from. Therefore, you can easily establish beautiful email subscriptions with them. This can also save a lot of time because you don't need to start from scratch.
MailPoet can also use this Email Newsletter WordPress plugin to arrange your newsletter. You can send them in the right way, schedule them, or be notified via new blog posts. All operations can be done automatically in just a few clicks. In addition, the plugin can also help you manage subscribers and subscriber lists.
Features of MailPoet
Send automatic registration welcome email
Multiple response templates
Compliant with GDPR
WooCommerce email
Super fast (50,000 emails per hour)
Other Email Newsletter WordPress Plugins
6. Bloom
Bloom is a beautifully designed Email newsletter WordPress Plugin with more than one hundred templates and 19 integrations with popular email marketing tools.
It supports six different types of pop-up forms: pop-up window, fly-in, widget area, and content consistent with content, located below the content, and in the content cabinet. You will also get unique trigger options, such as the ability to display an opt-in form after a visitor has made a comment.
Check out our Bloom in-depth review for more information. Plans start at $89 per year, which includes the use of all elegant themed products (including Divi).
7. Newsletter
As the name itself mentions, Newsletter is a WordPress current affairs plugin, perfect for increasing current affairs subscriptions on your website. If you are looking for a plugin that can help you with email marketing, then this Email Newsletter WordPress Plugin can help you a lot. It is specially developed to create a new subscription service for your website. It has many features and you will love to have it on your website.
Press releases allow you to subscribe to press releases without restrictions. It also provides statistics about your website. In addition, this Email Newsletter WordPress Plugin also allows you to use an unlimited amount of newsletters. You can easily send mass newsletters to your audience to interact with them via email. In addition, it also checks for spam subscriptions, which can also protect the security of your website. This is done through domain or IP blacklisting, Akismet, and Captcha.
Features of Newsletter
Unlimited subscribers and emails.
Compatibility with multiple SMTP platforms (such as Postman, WP Mail, Easy WP, and Mail Bank).
Excellent documentation and online support.
Subscribe to the pop-up extension of the widget.
Fully customizable widgets, themes, pages and contact forms.
Provide text and HTML versions of emails.
Newsletters of the latest blog posts and events are automatically generated.
8. Mailster
Mailster is one of the most powerful and cost-effective Email Newsletter WordPress Plugins, and if used properly, it can save you a lot of money. Like MailPoet and Jackmail, Mailster aims to be a full-service email newsletter solution that helps you increase your lists and send them emails.
In essence, Mailster builds a full-featured newsletter software directly on top of WordPress and uses third-party services such as Mailgun, SendGrid, Mandrill, and Amazon SES to send emails to your subscribers.
You can use a drag-and-drop editor to build emails, and you can also dynamically include content from your sites, such as the latest blog posts or WooCommerce products.
It has six types of autoresponders and supports real-time tracking of open mail rates, clicks, etc.
9. Email-Subscriber
To get more email subscribers for your website, you need a great Email Newsletter WordPress plugin. Therefore, email subscribers are just the tools you need. It can provide you with many functions and elements required for email subscriptions on your website. You can collect sales leads, send automatic blog post notifications, etc. In addition, you can also send broadcasts to your subscribers. Even better, you can manage all of them in one place with the help of this plugin.
Email subscribers are an Email newsletter WordPress Plugin that can meet all your newsletter needs. It can meet the requirements of any type of website owner. This Email Newsletter WordPress plugin can be applied to the websites of bloggers, marketers, and even developers. You can add beautiful subscriptions anywhere on the website. As a result, it also has a very beautiful design. Therefore, you can easily attract many audiences to subscribe to your newsletter via email.
Features of Email-Subscriber
Send automatic posts on published posts
Create, schedule, and send broadcasts
Collect customer email
HTML editor
Include/exclude categories
10. MailJet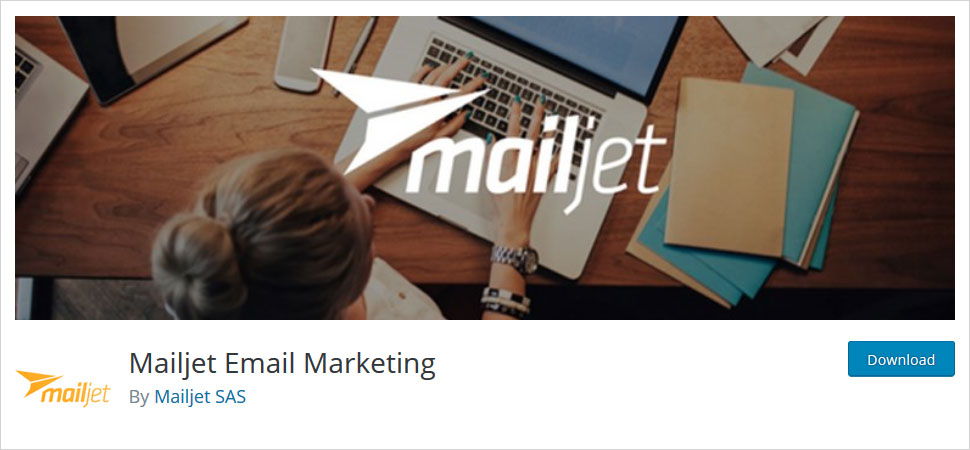 Mailjet is an Email Newsletter WordPress Plugin that you can use to easily add email subscriptions for website newsletters. It is a feature-rich plugin designed to win you more and more email subscribers. The plugin can help you easily manage emails. Therefore, you can easily manage all marketing and transaction emails directly from the WordPress management panel. You can also use this Email Newsletter WordPress plugin to manage registration forms and contact lists.
Mailjet can also help you achieve automatic contact synchronization. In addition, you can create a contact list in 3 ways. You can do this by user role and comment author. This Email Newsletter WordPress plugin also provides an option for WooCommerce customers to subscribe to your newsletter. All you need to do is activate the WooCommerce integration and see the growth of subscribers in it.
Features of Mailjet
Campaign Builder tools
World-class deliverability
Compliant with GDPR
Supports translation in up to 5 languages
Real-time statistics
11. MailOptin
If you need a powerful and flexible Email Newsletter WordPress Plugin, then MailOptin can be your ideal companion. You can use this plugin in many ways to get subscriptions. You can even use pop-up windows and forms to use them. It also has an autoresponder, which can be very convenient for you. Therefore, you don't have to personally respond to every new email subscriber. You only need to reply to them and you can automatically send them a reply through this plugin. This can save a lot of time. When everyone gets a reply, it can also prevent the subscriber from feeling ignored.
MailOptin also has automation options that can really increase your email marketing. It can also be used for lead generation. In addition, there is a supplementary toolbar/gadget form and a call-to-action form. The sidebar/widget form is one of the most popular ways to increase your email list. However, the plugin is useful for displaying targeted messages to visitors. Call-to-action buttons can urge them to take action.
Features of MailOptin
New post notification
Email summary of published posts
Communication arrangement
Multipart email
Beautiful and responsive email template
12. Jackmail
Jackmail is a free Email Newsletter WordPress Plugin that helps you build email lists and send email newsletters directly from the WordPress dashboard.
It has one of the unique things is that it has a built-in SMTP server integration. There is no need to discuss technical details, which means that the newsletter emails you send from your WordPress dashboard are more likely to avoid subscribers' spam folders.
To increase your email list, you can use the opt-in form that comes with Jackmail, or you can connect to many other popular email opt-in tools, including the Bloom plugin we mentioned above.
Then, you will get a drag-and-drop email builder to send press releases and more than 48 press release templates.
One neat thing is that you can set up automatic newsletters based on triggers. For example, you can automatically send a press release when you publish a new post or product. Or, you can send a weekly newsletter to automatically retrieve all the content you posted that week.
With Jackmail, you can send up to one hundred emails per day for free. After that, the paid plan only costs $5 per month.
Features of Jackmail
Drag and drop email builder with responsive mode
HTML and plain text mode
Personalize and customize your content, blocks, colors, etc.
Import static articles and pages from WordPress website
WooCommerce email version
Automatic newsletter based on triggers (new posts, new products, daily, weekly, etc.)
Import and manage your contacts easily
Contact list API
Opt-in forms and widgets
Associate with other opt-in forms (such as Ninja Form, Gravity Form, Contact Form 7, Powerful Form, Bloom, etc.)…
48 free newsletter templates for the gallery
Detailed statistics (opens, clicks, average reading time, equipment, etc.)
Including a professional sending platform!
Send the campaign now or schedule it later
Web copy and unsubscribe template pages
Compatible with custom content types
13. Tribulant Newsletters Lite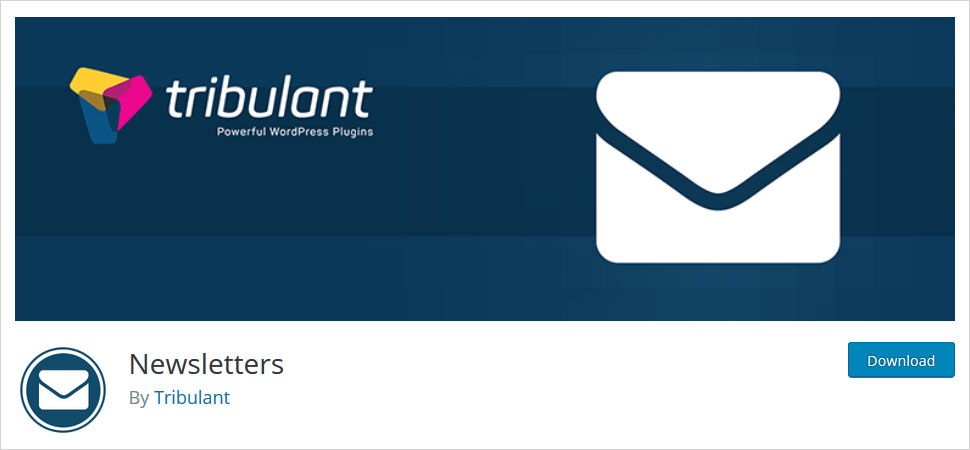 Another Email Newsletter WordPress Plugin by Tribulant's newsletter. This all-in-one newsletter plugin supports mailing lists, paid subscriptions, POP/IMAP return processing, DKIM signatures and even SMTP authentication, etc.
Creating a newsletter is as easy as creating a post. In fact, you can even send the post as a newsletter! Or use one of the included templates. When you are ready, send a press release from the information center. It is easy to send emails in batches with the queuing feature. You can also set up automatic replies and newsletters based on conditions to further attract audiences.
Features of Tribulant Newsletter
The off-site subscription form is enabled. This means that people can also subscribe to WordPress sites through external third-party websites such as Facebook or Twitter.
Posts can be sent as newsletters.
Enable users to subscribe to the latest posts on the website.
A large number of newsletter templates are available, and new newsletter templates can be added and customized.
In addition to personal lists, you can also create group lists of subscribers.
Chart-based statistical analysis can be performed on the number of emails sent, user growth, bounces and unsubscriptions in any given time period.
14. SendPress
If you want to send newsletters from your WordPress site in an easy way, SendPress is a good choice. After installing the plugin, you will have access to a simple no-code newsletter editor, responsive newsletters with tracking and scheduling features, customizable templates, registration forms and widgets, and single and dual choice settings.
However, the unique thing I have never seen before is the option to create newsletter lists based on WordPress roles. In this way, you can create a custom newsletter and send it to subscribers, as well as send weekly notifications to blog authors. This is a great way to keep in touch with readers and the team.
Other notable Email Newsletter WordPress Plugin features include Postman SMTP compatibility, Auto Cron (which ensures that all newsletter emails are sent) and useful online documentation. If you are interested, you can also upgrade to Pro to send via other SMTP options, automatic return management, reports, customizable HTML newsletter templates, spam scores, and advanced/priority support access to the API.
Features of SendPress
An unlimited number of subscribers.
Enable single and double join confirmation. The first one is a direct subscription, while the second one requires auxiliary confirmation from the subscriber (e.g. email confirmation).
Can customize and manage user roles. You can enable restricted access or specific permissions.
The news editor is similar to the WordPress editor and offers many formatting and editing options.
Both the text and HTML versions of the newsletter can be viewed.
15. Newsletter Manager XYZ
The Newsletter Manager in the XYZ script is a lightweight Email Newsletter WordPress Plugin with basic options. Included features include an optin form (shortcodes and widgets), support for unlimited subscribers (email), SMTP, automation through cron jobs, batch sending, automatic responses to subscriptions, and GDPR compliance.
The plugin also allows plain text, HTML or multi-part messages. Therefore, the use of this particular Email newsletter WordPress Plugin is entirely up to you. Create your own design, or find the HTML news template you want to use for email.
16. Sleeknote
Sleeknote comes with build tools for your email marketing. With its page-specific advanced positioning, you can display personalized page messages to specific visitors on your website.
Take further steps to easily target users based on where they are in your marketing channel. Also, use Sleeknote to hide from subscribers. Avoid annoying your visitors by hiding the campaigns of existing subscribers.
Stay ahead of the game by checking your analysis and insight. Easily track your performance and calculate how much your email is worth. The interface allows you to easily track the performance of each campaign through views, leads, and session rates.
Take advantage of use case features and offer hot sales and discounts, contests and giveaways, or just upgrade your content.
17. Icegram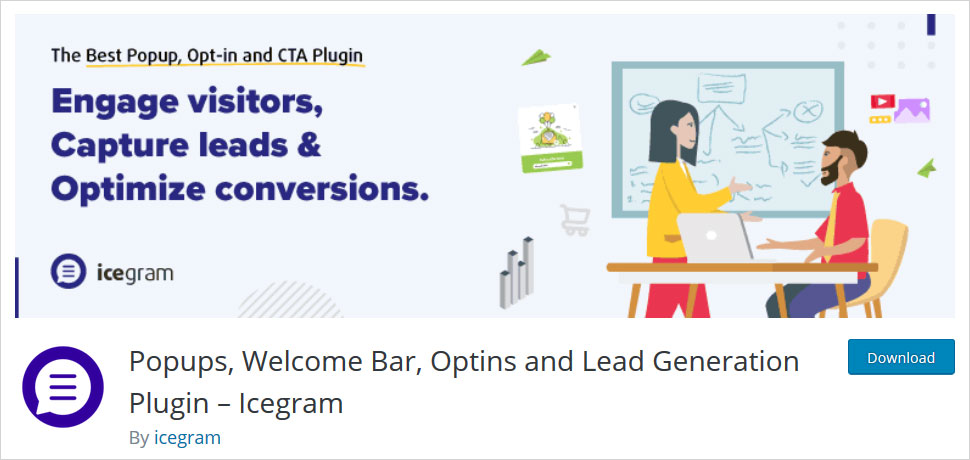 Icegram is the best plugin to create beautiful opt-in forms and call-to-action buttons. The default available options are pop-up form, header/footer bar, toast notification, and slide-in Messenger. All the work can be done without coding. However, if you are an advanced user, then Sky is the only limitation.
You have to be sure that the Icegram Email Newsletter WordPress plugin is a form builder, so you will need an email marketing plugin to send the newsletter. The developer provides you with 2 recommended compains, namely email subscribers, and Rainmaker.
Many people choose Icegram's free plan because it is easy to use. In addition, the plugin will not display the usual "powered by trademark" line anywhere on your form. Although positioning options are also available for free, A/B testing and exit intentions only apply to Pro and Max plans.
18. Thrive Leads
The design of Thrive Leads is based on the best conversion and growth hacking practices. Using its positioning function, you can immediately achieve significant growth.
The special builder for the Email Newsletter WordPress plugins is called Thrive Architect, which focuses on beauty and user experience. Designing professional-looking forms will be very easy-you can choose one from 10 available models, each of which is customizable. The A/B testing function is also easy to use and can test your design, content, triggers, and form types.
In addition, the SmartLinks function can distinguish visitors (regardless of whether they are subscribed or not). The display format of each group will be different. Concerning campaign management, Thrive Leads is integrated with 30 newsletter services, including MailChimp and Google.
19. WP Subscribe Pro
WP Subscribe Pro is a simple and affordable Email Newsletter WordPress Plugin designed to help you increase your email list. It does not have the turbulence of other tools, but it is very simple to use and will not waste your budget.
It provides all the necessary features you expect, such as basic pop-up triggers, including specific posts/pages, time delays, exit intentions, etc.
The only drawback is that there is no drag and drop builder-you can only customize the style and text of an existing template. This makes the setup process very simple, but it also means you don't have much control.
Nonetheless, WP Subscribe Pro makes up for this with its price-you only need to pay $19 for one year of support and updates.
20. Hubspot
HubSpot provides free, reliable and feature-rich email marketing tools suitable for growing companies. This tool is part of HubSpot's free Email Newsletter WordPress plugin.
With HubSpot email marketing, you can use a simple drag-and-drop email builder to create professional marketing emails to attract and expand your audience. HubSpot emails are automatically connected with HubSpot CRM, so you can customize related emails based on any details you have (such as form submissions and website activities).
Features of Hubspot
Use the drag-and-drop editor to create beautiful emails from scratch without any additional IT and designer resources
You can use HubSpot's goal-based email templates included in the free version
Personalize subject lines, content, links, attachments and calls to action according to the subscriber's life cycle stage, list membership or any information in the contact record
Optimize email campaigns through A/B testing and analysis
21. ConvertPro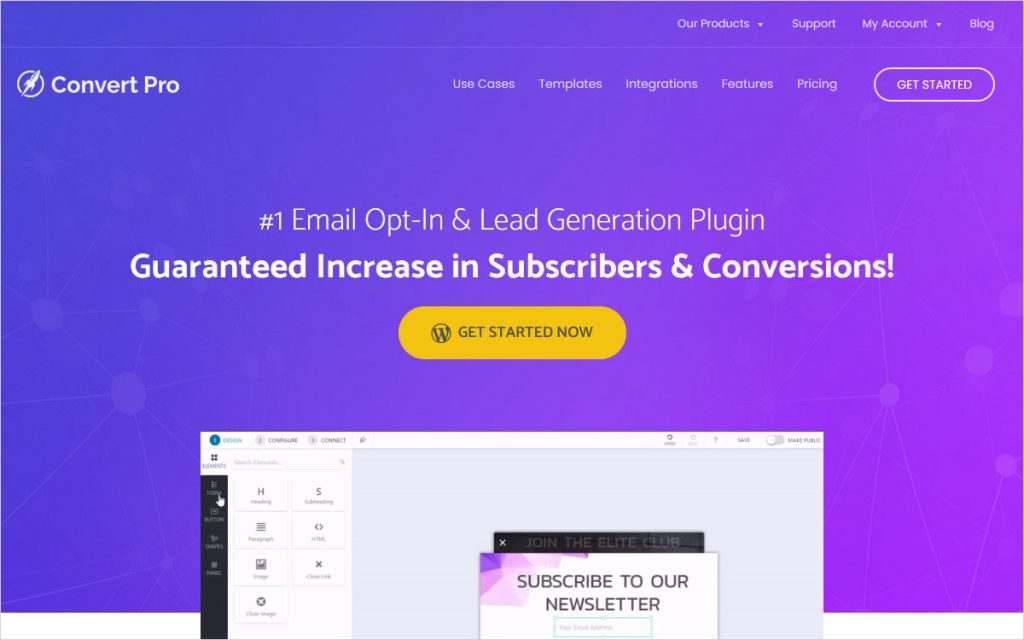 ConvertPro is a popular WordPress selection form plugin provided by Brainstorm Force. This is the same company behind Astra Theme and Schema Pro plugin.
Using this Email Newsletter WordPress Plugin, you can use the drag-and-drop editor to deploy various opt-in form types. And take advantage of a large number of positioning and behavior trigger options.
You can get the type of access form you need, such as pop-up windows, widgets, plugin controls, etc. There are more advanced types, such as yes/no forms, multi-state and content locking.
You will find support for various email service providers, such as Mailerlite, ConvertKit, ActiveCampaign, AWeber, SendinBlue, GetResponse, MailChimp, etc. (see the full list).
ConvertPro is a modular plugin. What does it mean? After loading useful functions, you can disable the functions you don't need. This will improve the performance of your website.
You can disable modules include reporting, A/B testing, email integration, etc.
Advanced targeting features allow you to create forms for specific countries, all EU countries or non-EU countries. You can also target specific devices, such as mobile devices and desktop computers.
Features of ConvertPro
Advanced Display Trigger – The most extensive display trigger I have found in the plugin. Including page dwell time, inactivity, scroll to CSS class, exit intention, etc. They can be stacked and configured into groups.
Advanced positioning features-ensure that the right people see the right form on your website. Position the form to a specific page, post or taxonomy. You can also use location targeting.
Modular plug-in design-turn off unnecessary functions to improve website performance.
22. ConvertBox
ConvertBox is a hidden gem in the field of lead generation tools. This is a SaaS platform directly connected to WordPress.
Over the years, I have tested many tools for creating email registration forms, but this has the simplest user interface I have tried.
I can complete the process from opening the editor to publishing the form in a few minutes. There are not many templates to choose from, but the templates available look great.
You can create several different types of forms-sticky bars, pop-up boxes, slides, embedded forms, and full-page forms. New features are added frequently.
You can quickly run an A/B split test by copying an existing form, showing the URL you selected or excluded (if you have a WordPress plugin installed, the category and tags are displayed).
You can use many targeting rules, including device type, location, URL string, referring website, etc.
Most importantly, it is very easy to set up multiple selection forms, where each answer can assign subscribers to different tags/groups/lists-this feature is very powerful when used for email segmentation channels.
Features of ConvertBox
API integration and custom HTML forms-most email service providers are supported, but if not, you can use their custom HTML form options.
Advanced display and positioning options-when the user is about to leave, on the timer, click a link, etc. to display the form. Then select exactly the page to be used and the positioning options (location, referring website, etc.).
Real-time analysis-accurately view the execution of forms and split tests. You will not only see sales leads, views and conversion rates, but also interactions.
23. WP Notification Bar Pro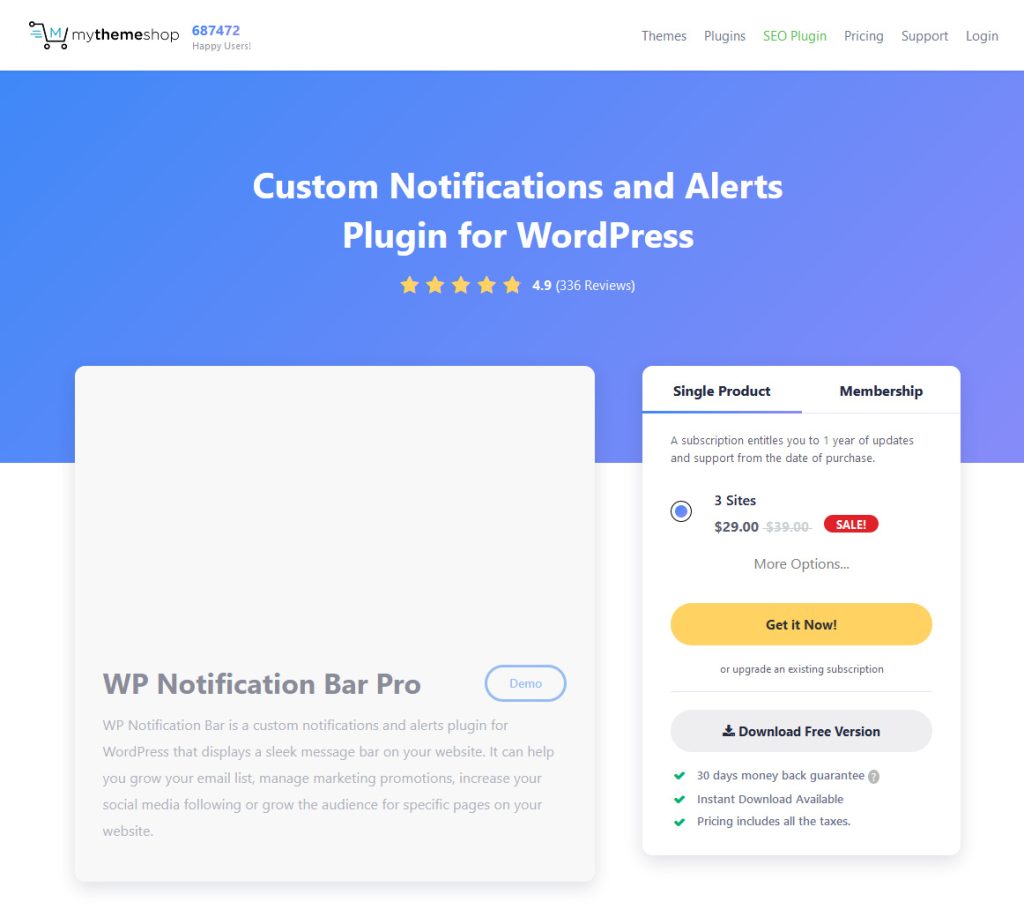 WP Notification Bar Pro allows you to easily add the notification bar to the top or bottom of your WordPress website.
You can choose to display an opt-in form in the notification bar, or you can display text and a button linking to one of your landing pages.
You can also display text, links to social profiles, or timers.
Using this plugin, you can select the display position of the notification bar on the website and the object displayed.
For example, you can choose to only show certain columns on mobile devices and hide them on the desktop. Or, you can create specific columns for search engine visitors.
If multiple bars are displayed on a page, you can set a priority-this ensure that visitors will not see multiple bars.
This Email Newsletter WordPress Plugin has a free version that can be used to link to the login page or display custom content, but there is no form feature.
Features of WP Notifications Bar Pro
A/B split test – understand the conversion method that best suits your audience.
Basic analysis-track the notification bar clicked by visitors.
Support the most popular email providers-including MailChimp, GetResponse, AWeber, Campaign Monitor, Constant Contact, ActiveCampaign, Benchmark, Sendinblue, Drip, ConvertKit, Mad Mimi, etc.
Several column types-opt-in form, timer, text, button, social profile, etc.
24. Drip
You can use this excellent Email Newsletter WordPress plugin to easily automate email marketing campaigns. You only need to install a Drip account and install the plugin.
This is one of the best email Newsletter WordPress plugins used for email marketing. With Drip, you can easily collect email addresses, and you can easily send emails to potential customers.
Features of Drip
Tags and countless custom fields can be added to subscribers as they perform operations.
You can isolate users with the help of incidents and tags and send them personalized emails.
Subscribers' activities will automatically be trapped in Drip.
Easily track sales leads and use drip irrigation to convert them into sales, which will calculate the lead score.
Drip is compatible with various applications and platforms, such as CRM systems, payment gateways, shopping carts, etc.
25. MailerLite
MailerLite is a simple email marketing and automation Email Newsletter WordPress Plugin to help you grow subscribers and build stronger relationships. It comes with a drag-and-drop email builder that can instantly design professional email newsletters. Email automation allows you to set up campaigns and send bulk emails. It can also help you create a landing page to take the subscriber list to the next level.
It has strong integration with multiple e-commerce platforms, popular CRM software, etc. MailerLite provides email newsletter design examples, you can customize and create e-mail newsletters more quickly.
Conclusion – Best Email Newsletter WordPress Plugin
Starting with email marketing is a good step towards the overall marketing goal. However, before you try, it is very important to develop a content marketing plan (that is, to develop a solid strategy). First, ask yourself some questions, such as: How often do I send emails? What will I promote in the email? Should I consider a drip email strategy?
Here are some of the best Email Newsletter WordPress plugins you can find. You can use them to create and add multiple types of news subscription forms and pop-up windows on your website. Although most features are free, some plugins also provide advanced versions. The advanced version also provides a variety of additional functions. But the functions of the free version are sufficient to meet the needs of most websites. As the audience increases, you can switch to the premium version if necessary.
So, I hope you will get the answer of Which is the best Email Newsletter WordPress Plugin. Choose according to your needs and the features of the Email Newsletter WordPress Plugin providing.
For using the Email Newsletter WordPress Plugin you need a WordPress Website. If you have than its good to go, if you have not than also don't need to worry about. We have a solution for you as a Ready Made WordPress Website. Yes, in the Ready Made WordPress you will get all of the services which the website needs to start – like Web Hosting, Domain, SSL, On Page SEO. All you will get in Ready Made WordPress Website. Our team will setup the website within 24 hours after ordering.
Ready Made Website reduces your stress of managing and setting up the website with Hosting and Domain at a very minimal price. In Delegate Studio, you will get Cloud Managed Hosting, a Top-Level Domain like .com, .net, etc., SSL, On-Page SEO, and setup the Website within 24 hours, 24*7 Customer Technical Support. Go and choose the website to start and get your website online within a day. Alan Franklin
Alan Franklin is a professional Web Developer and a WordPress Blogger at Delegate Studio. He has a huge passion for WordPress and using his experience for over a decade.